Video Of Punjab Congress Councillor's Brothers Beating A Woman Falsely Linked To BJP
While two of the main accused in the brutal attack on a woman are brothers of a Congress councillor, viral post tries linking the video with Modi government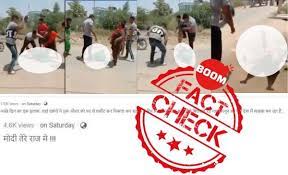 A shocking video from Punjab showing a group of men drag a woman from her home onto the street and assault her is being falsely linked to the Bharatiya Janata Party (BJP) when in fact two of the assailants are brothers of a Punjab Congress councillor.
The video has been shared with different captions such as 'in Modi's regime' and a 'glimpse of acche din'- linking the incident to the BJP
(Hindi: मोदी तेरे राज मे and अच्छे दिन का एक झलक. यहां दबंगो ने एक औरत को घर से घसीट कर निकाल कर सड़क पे गिर-गिरा कर मारा. बच्चें रोते बिलखते रह गए. क़ानून का पूरा देश में मज़ाक़ बन रहा है |)
The video clip shows four men, drag the victim out of her home and rain blows and kicks on her.
Another woman who tries to save the victim is also shoved aside. The assault lasts for almost 3 minutes before onlookers intervene. The video has been recorded by the victim's son.
The viral video can be viewed here and its archived version can be accessed here.
Fact Check
BOOM did a reverse image search and found that the incident was from Punjab and was widely reported.
According to news reports, the incident took place on Friday (June 14, 2019) at Budha Gujjar area of Sri Muktsar Sahib district in Punjab. The men leading the attack, Sunny Chaudhary and Suresh Chaudhary, are brothers of Rakesh Chaudhary, councillor of Muktsar municipal council's ward number 29.
According to the newspaper reports, an argument between the victim and the wife of one of the accused over money, sparked the attack. Reports said that the victim owed Rs 23,000 to the accused.
Read more about the incident here and here.
Meanwhile, Punjab Chief Minister Captain Amarinder Singh tweeted that the accused have been arrested.
Later, Punjab police also tweeted from its official handle about the arrest of councillor Rakesh Chaudhary and six others in connection with the incident.
Claim Review :
Woman attacked brutally in Modis regime
Claimed By :
Facebook pages