Video Of Arms Seized From A Motorbike In Pakistan Shared As Jammu And Kashmir
BOOM found that the video is from Khyber Pakhtunkhwa in Pakistan and not from Jammu and Kashmir.
A video of Pakistani policemen unloading ammunitions from a motorbike is viral on social media with false claims that the incident happened in Jammu and Kashmir.
The 4 minute 20 second video shows a policeman in uniform tearing apart the seat of a motorbike to remove a considerable amount of magazines and a couple of pistols. The video has been doing the rounds with the narrative that Jammu and Kashmir police have seized a vehicle with weapons.
The video is shared with the caption, "People say that cops stop vehicles to harass them intentionally. Now what to say to this? An investigation by the cops in Jammu and Kashmir." Original text in Hindi, "लोग कहते है की पुलिस परेशान करने के लिए जान बूझकर गाड़ी रोकती है । अब इसको क्या कहेंगी जनता। पुलिस द्वारा जम्मू कश्मीर में एक कार्यवाही ।"
Click here for the archive of the video.
The government of India revoked Article 370 and 35 A from Jammu and Kashmir in August this year, following which the state was stripped off its autonomy.
The video is viral on multiple social media platforms with the same narrative.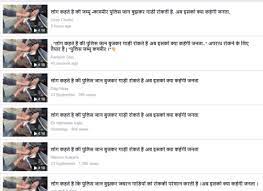 Fact Check
BOOM could ascertain that the video is not from India as the black shirt and khaki pants uniform is worn by policemen in parts of Pakistan.
We then broke the video into its key frames and ran a reverse image search, with relevant keywords. We were directed to the same video that was uploaded to YouTube with the caption "Breaking news! Kpk police arrested smugglers bike and weapon" earlier this month. The incident was stated to have happened in the Kohat region of KPK (Khyber Pakhtunkhwa).
A relevant keyword search in Urdu led us to the same video on a Facebook page Kohat Post.
The District Police of Kohat's Facebook page also uploaded the video with the below description that the police foiled a plan of smuggling arms and weapons when a motorbike was intercepted at one of the area's check post. "The weapons seized include 1 repeater, 1 rifle, 4 pistols, 6 chargers and 1600 cartridges," the post said.
Claim Review :
Arms seized from a motorbike in Jammu and Kashmir
Claimed By :
FACEBOOK POSTS