2008 Mangalore Church Video Goes Viral As Tuticorin Riot Training Centre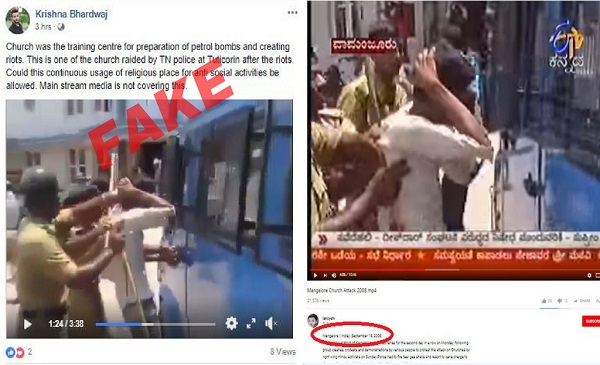 Amidst the protest in Tamil Nadu's Tuticorin district that saw the death of 13 locals in anti-Sterlite protests, a video showing policemen storming a Church and rounding up people out of it has gone viral on social media. The text going with the video says, "Church was the training centre for preparation of petrol bombs and creating riots. This is one of the church raided by TN police at Tuticorin after the riots. Could this continuous usage of religious place for anti social activities be allowed. Main stream media is not covering this."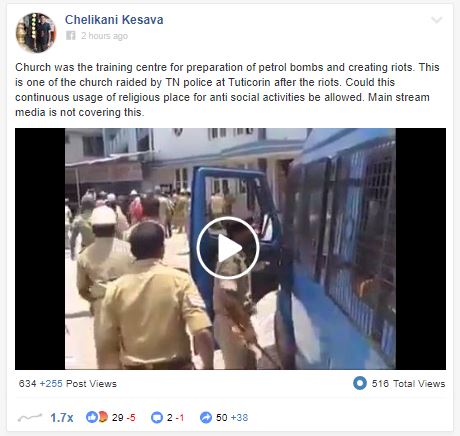 The video was widely shared by several people with the same context. However, a factcheck revealed that the video is actually 10-years old and was shot in Mangaluru, Karnataka. A Youtube video with ETV's logo on it shows a few similar clips of police rounding up people from Saint Sebastian church and forcing them to sit on the ground.
We also found a video with NDTV's logo with similar visuals.
The same sequence of events can be seen in an Al Jazeera news report from 2008.
The collage below is a compilation of the shots of the same frame in two different videos. On the left is the screenshot of one of the videos with the context that has gone viral and on the right side is the screenshot of the 2008 video with the logo of ETV on it.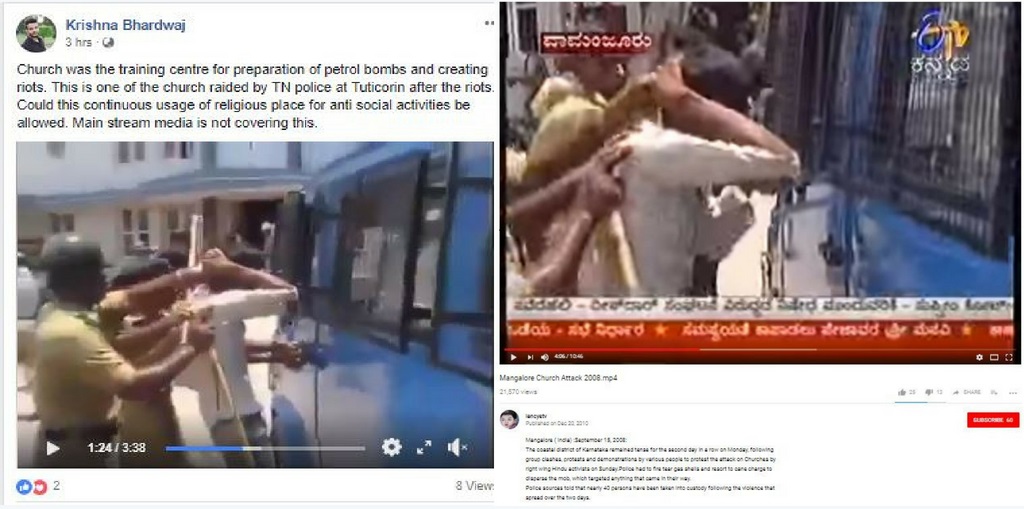 FACT:
As reported in one of our own fact checks on May 17, the video is from when relations between the state's Hindu and Christian communities hit their lowest point. Between August 2008 to September 2008 over two dozen churches and several Christian prayer halls were attacked and vandalized in Udupi, Chikmagalur and Dakshina Kannada districts allegedly by Bajrang Dal activists as backlash for a Hindu religious leader killed in the state of Odisha. (source, source, source) The attacks coincided when the BJP, led by BS Yeddyurappa came to power in Karnataka. While a fact-finding comission set up by the BJP state government to investigate the attacks went on to exonerate Bajarang Dal activists, a successive Congress government that came to power in 2013 went on to reject the commission's report. (source)
This is the second time this month that the 10-year old action-packed video has gone viral with a fake narrative. A series of videos and images involving a few churches in Karnataka's (Mangaluru) Mangalore region had gone viral on WhatsApp and social media following the Bharatiya Janata Party's (BJP) victory in the recently concluded assembly election. BOOM wrote a story around it debunking the fake posts. Click here to read the entire story.
Meanwhile following the violence and strong public protests, the Tamil Nadu government today shut down the Sterlite copper smelting plant in Tuticorin. This has been a long standing demand of the local residents who had accused the company of violating pollution norms that led to rising cases of cancer in the nearby villages.