UP No. 1 In Murder, Says Amit Shah: Partially Right, But All Parties To Blame
Amit Shah is only partially right in saying that UP is No 1 in murder. Irrespective of ruling party, law and order in UP has not improved in 2 decades.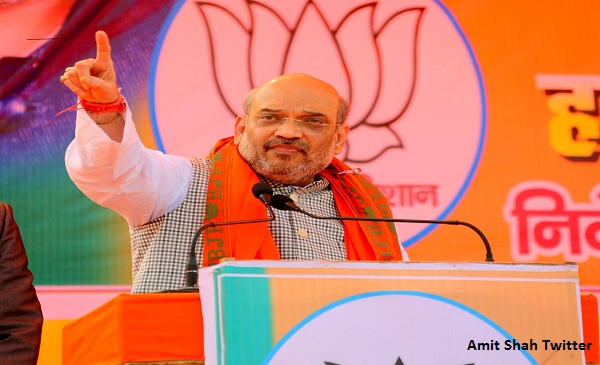 BJP President Amit Shah while campaigning in Balliam, Uttar Pradesh blamed the twin parties Bahujan Samaj Party (BSP) & Samajwadi Party (SP) for destroying Uttar Pradesh in the last 15 years. Singling out SP, Shah accused the Samajwadi Party of making Uttar Pradesh number one in murder cases. And he didn't stop there. He also accused the SP for UP's dubious distinction of being number one in all violent crimes such as rape, robbery, dacoity and kidnapping.
उत्तर प्रदेश की सपा सरकार ने उत्तर प्रदेश को हत्याओं के मामले में नंबर-१ बना दिया है : श्री अमित शाह pic.twitter.com/aOu2yzmgi3

— BJP (@BJP4India) February 27, 2017
But are Amit Shah's accusations true? BOOM looked at published data to factcheck Shah's claims regarding the state's dismal record on murder and rape.
MURDER
The two questions we address are :
Is UP No 1 in murder?

Is SP solely responsible for the state's top ranking in murder cases?
All the three parties – SP, BSP and BJP – have been in power in Uttar Pradesh over the last 20 years.
Below are murder statistics in UP during the terms of each of these parties. Through this period, Bihar has stood number two in overall cases of murder.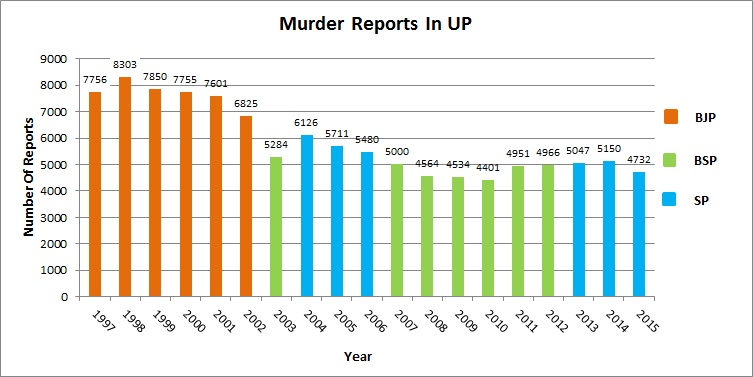 Source: National Crime Records Bureau
Thus, the conclusions are -
If the number of reports of murder is considered, UP is certainly number 1. But, this has been the case for several years. While the 2nd most murder reports were from Bihar, UP has been way ahead with a margin of more than 1000 cases each year between 1997 - 2015.
If only number of reports are of concern, irrespective of the party in power, UP has always been first in murder cases.
Therefore, Amit Shah's allegations that Samajwadi Party is solely responsible for the rise in murder cases in UP cannot be backed with facts. The BJP ruled the state between September 1997 to March 2002. Current Union Home Minister Rajnath Singh served as the Chief Minister between October 2000 to March 2002 during which the state did not see any sizeable dip in murder cases. In fact, murder reports have dipped by 8 % in 2015 under the Akhilesh Yadav led Samajwadi Party rule.
RAPE
Question : Is UP No. 1 in reported cases of rape ? Take a look at the rape statistics in comparison with the BJP ruled neighbouring state of Madhya Pradesh.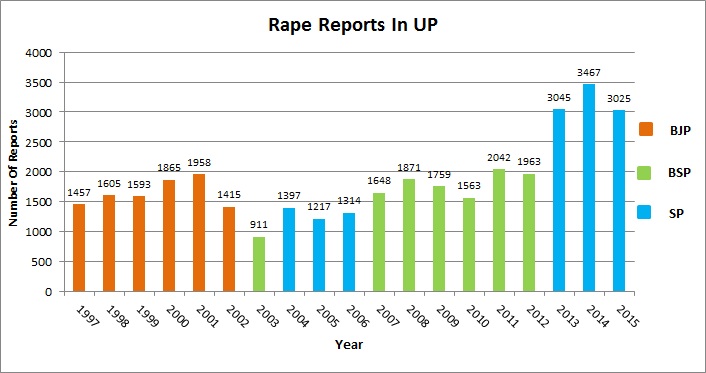 Source: National Crime Records Bureau
Source: National Crime Records Bureau
UP is not No 1 in rape. If number of rape reports is of concern, MP has been No. 1 in all the years under consideration where both Congress and BJP has been in power with BJP ruling the state since 2004. Thus, Amit Shah's allegation with regards to rape is also not based on facts.
RATE OF CRIMES IN 2015
The overall number of registered cases may often not give the entire picture as we compare states with varied population numbers. Hence, we also need to look at the rate of crime in UP. Rate of crime is the incidence of crime per lakh population and thus considers the factors of population size and frequency.
| | | |
| --- | --- | --- |
| | Crime Rate in UP | National Average Crime Rate |
| Murder | 2.2 | 2.6 |
| Rape | 3 | 5.7 |
| Violent Crimes | 18.8 | 26.7 |
| Total Cognizable IPC Crimes | 112.1 | 234.2 |
Note: Violent crimes include crimes such as murder, attempt to murder, rape, dacoity, robbery, riots and 7 others.
Source : National Crime Records Bureau
Rate of crime in Uttar Pradesh is below the national average in all the four categories.
Meghalaya had the highest rate of murder (5.5) followed by 4.6 in Jharkhand. This puts UP in a better condition than these states. The 2015 murder rate of UP also showed a dip from 2.4 in 2014.
In the case of registered cases of rapes, Delhi has the highest incidence with a rate of 23.7 followed by 12.2 in Chhattisgarh and 11.9 in Madhya Pradesh.
Incidence of violent crimes is highest in Delhi with a rate of 97.4 followed by Assam with a rate of 47.1.
Incidence of total cognizable IPC crimes is highest in Delhi with a rate of 916.8 followed by 723.2 in Kerala, the most literate state in India.
There is no doubt that Uttar Pradesh is clearly not the best policed state in the country and a lot can be done to improve law and order. But keeping election rhetoric by political parties aside, there is no doubt that irrespective of the party ruling Uttar Pradesh, the citizens have not seen a huge improvement in the law and order situation over the last 2 decades.
मैं इस वीरों की धरती को नमन करता हूँ: श्री @AmitShah https://t.co/OasQETU1AD

— BJP LIVE (@BJPLive) February 27, 2017