Unrelated Video From UP Shared As Youth Beaten For Hoisting Saffron Flag In West Bengal
A gruesome video from Uttar Pradesh is recycled on social media with a fake narrative.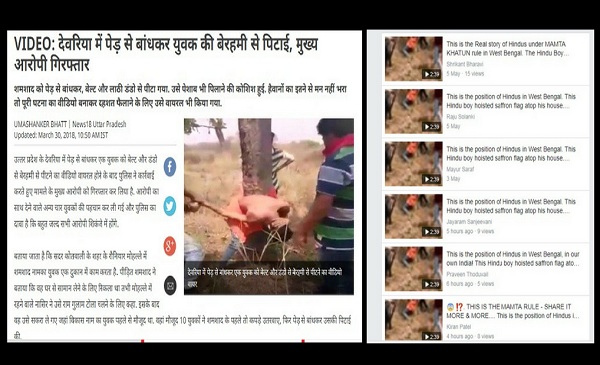 CLAIM:  A Hindu youth was brutally beaten for hoisting a saffron flag atop his house in West Bengal.
RATING: False
FACT: The incident took place in Deoria, Uttar Pradesh in March this year and is not related to any communal dispute.
FACT-CHECK: 
A video from Uttar Pradesh showing a group of men brutally thrash a man tied to a tree is being shared on WhatsApp and social media with the false context that a Hindu youth was beaten in West Bengal for hoisting a saffron flag atop his house.
The video has gone viral over WhatsApp, YouTube and Facebook. It is being shared with a false message that reads, "This is the position of Hindus in West Bengal. This Hindu boy hoisted saffron flag atop his house."
The video shows a group of 5-6 men viciously beat a man tied to a tree with sticks and belts while a few bystanders record the gruesome violence on their cellphones.
BOOM traced the video through news reports which stated the incident took place on March 28, 2018 in Deoria district of Uttar Pradesh and not West Bengal as these viral posts claim. The victim Shamshad Ahmed was thrashed after he asked the main accused Nasir Ansari to return the money he had lent him. (See below tweet from ANI UP)
Deoria: Miscreants tied youth to a tree & thrashed him after he asked them for the money lent by him. Video of the incident went viral, Police took cognizance & arrested one accused, say, 'Main accused arrested, 4 others in video have been identified & are absconding.'(28.3) pic.twitter.com/1IjLIm4rtw

— ANI UP (@ANINewsUP) March 30, 2018
Shamshad had loaned Rs. 1500 to Nasir a few months ago, which the latter had not returned, according to news reports. The duo bickered over the issue with Shamshad even hitting Nasir. However, Nasir avenged the beating by luring Shamshad to a deserted field, where he and his friends then assaulted Shamshad.
In addition, BOOM spoke to  Surendra Bahadur, Additional Superintendent of Police, Deoria, who confirmed details of the incident and that it was not related to any communal dispute. Bahadur said all  accused had been arrested and were charged under sections 506, 504, 323, and 392 of the Indian Penal Code. The IPC sections relate to criminal intimidation, intentionally provoking or insulting a person, voluntarily causing hurt and punishment for robbery. (The victim's phone was stolen by the assailants)
The incident was mainly covered by Hindi news outlets such as Amar Ujala, News 18 Hindi, Khabar NDTV at the time.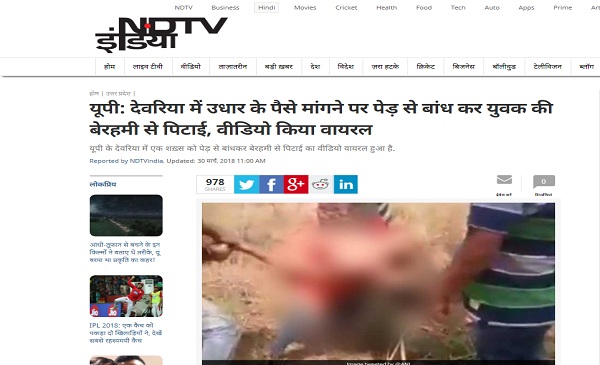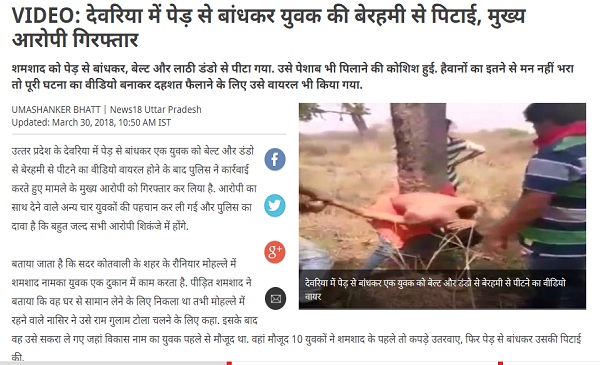 We are glad to bring you this fact check. If you are happy with our mission to keep the internet safe of disinformation, do support us by clicking on the link