Twitter Fact Checks Kiran Bedi's Fake Video Of PM Modi's Mother Celebrating Diwali
No, that's not the prime minister's 97-year old mother Hiraba dancing on Diwali.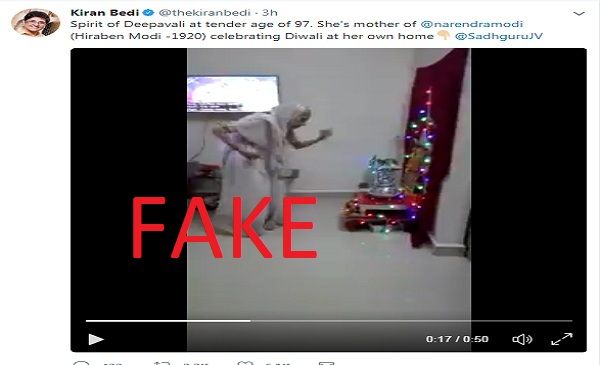 A video of an old woman playing Garba is being shared as a video of Prime Minister Narendra Modi's 97-year old mother Heeraben Modi celebrating Diwali at her home.
Twitter users were quick to call out the video shared by Kiran Bedi, Lieutenant Governor of Puducherry, who later on tweeted that it was a case of mistaken identity.
Spirit of Deepavali at tender age of 97. She's mother of @narendramodi (Hiraben Modi -1920) celebrating Diwali at her own home👇🏼@SadhguruJV pic.twitter.com/HBXAzNXomC

— Kiran Bedi (@thekiranbedi) October 20, 2017
While we were not able to find much about the identity or age of the woman in the video, the video itself has existed since September on YouTube.
The song playing in the background is one associated with the festival of Navaratri and not Diwali.
Another YouTube video claims the woman is a 100 years old though there is no evidence to support the claim.
None of the video's previous descriptions refer to the woman as Heeraben Modi nor does the woman bear any resemblance to the prime minister's mother.
Bedi later tweeted out a clarification.
Am informed it's mistaken identity @SadhguruJV. But salute to the mother with so much vigour. I hope i can be like her if/ when I am 96..! https://t.co/5llHN40tg8

— Kiran Bedi (@thekiranbedi) October 20, 2017

BOOM found text similar to Bedi's original tweet on Facebook indicating that the video must have first originated on WhatsApp and is now making its way to social media platforms like Twitter and Facebook.
(BOOM is now available across social media platforms. For quality fact check stories, subscribe to our Telegram and WhatsApp channels. You can also follow us on Twitter and Facebook.)