Have Terror Incidents In J&K Declined Since Surgical Strikes? A FactCheck
Government's claim of decline of terror incidents in J&K post 'surgical strike' is true, but 2016 recorded the highest deaths due to terrorism in the past 5 years
Is violence related to terror in Jammu and Kashmir on the decline? Yes, says the government attributing the decline to the surgical strikes carried by Indian defence forces across the LoC on 29th September, 2016. This report by the Times of India has cited Rajya Sabha questions as the source of the information.
The Home Ministry in its reply to the questions of:
Whether it is a fact that terrorist activities have increased in Jammu and Kashmir after surgical strike;
the number of civilians and security personnel killed in J&K after surgical strike
put out the following table.

Source: Rajya Sabha Question on March 22nd, 2017
The data shows post the surgical strikes, 87 terrorist incidents were reported, a drop of 25% from the three months prior to the strike. It also recorded a decrease of 78% in the death toll of security personnel from the previous three months.
But the numbers cannot be looked at in isolation. It was after the killing of Burhan Wani, the commander of Hizbul Mujahideen – a militant group in Jammu & Kashmir, by the Indian security forces on July 8th 2016, Kashmir Valley saw a resurgence of militancy and unrest. There were rising incidents of clashes between security forces and militant outfits.
Data from South Asia Terrorism Portal (SATP), which records terrorist activities and fatalities in South Asian countries, show a 98% increase in death toll in the second half from the first half of 2016.

Source : South Asia Terrorism Portal
Ten days after the attack on the Army headquarters in Uri which led to the death of around 18 soldiers, India conducted 'surgical strikes' on 29th September, 2016. It involved attacking 'terrorist' camps in Pakistan Occupied Kashmir.
The NDA government has claimed that surgical strikes coupled with demonetisation of high value notes on November 8, 2016 proved to be decisive and bold moves against terrorism. The decrease in death toll in Jammu and Kashmir in the last quarter is in favour of the government.
However, the death toll due to terrorism in 2016 is the highest (267) in the past five years. This includes civilians, security personnel and terrorists killed over the years.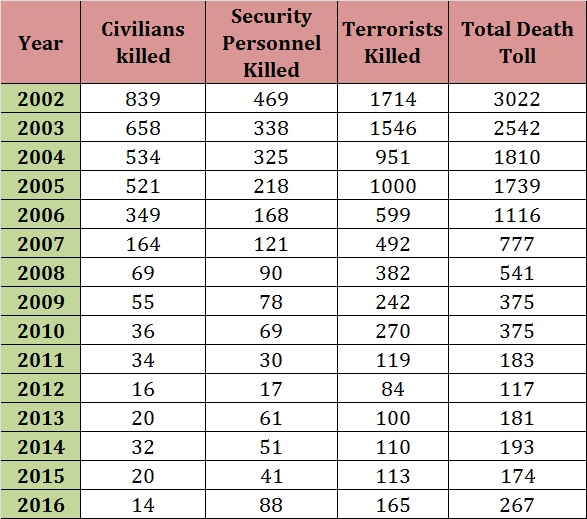 Source: South Asia Terrorism Portal
Also, the number of terrorists who attempted to infiltrate through Jammu and Kashmir in 2016 was double of that in 2015, according to the Home Ministry's response in the Rajya Sabha. The year 2016 recorded a 200% increase in infiltration from 2015 and 63% from that of 2014.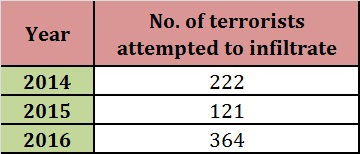 Source: Rajya Sabha Question on February 8, 2017
So while the government may be right in claiming that there is a decline in terror incidents post 'surgical strike', we still have a long way to reach the level attained in the year 2012 which recorded the lowest deaths (17) of security personnel.
We are glad to bring you this fact check. If you are happy with our mission to keep the internet safe of disinformation, do support us by clicking on the link