Supreme Court Ends Sasikala's Dream Run; Convicts Her In DA Case
Sasikala and two other accused will have to surrender before the Karnataka trial court immediately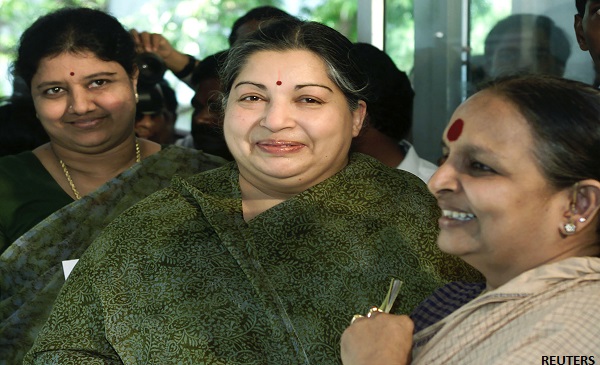 Late Tamil Nadu chief minister Jayalalithaa & V K Sasikala
AIADMK General Secretary and Tamil Nadu chief minister aspirant faced a big blow when the Supreme Court overturned the Karnataka High court order and convicted her in the Disproportionate Assets case. The SC has also said that the accused will have to surrender before the trial court at Karnataka immediately.
Sasikala will have to serve jail term for 4 years and has also been fined Rs 10 crores. The main accused in the original chargesheet and late chief minister Jayalalithaa has also been convicted in the case. She can now appeal the case in the Supreme Court but is largely seen as a formality with the court expecting to reject the appeal.
The disproportionate assets case was registered in 1997 against Jayalalithaa on charges that the rise in her wealth was disproportionate to her known sources of her income. Jayalalithaa's income had risen from Rs 2 crore in 1991 to Rs 66.65 crore in 1996, coinciding with her first term as chief minister. The co-accused in the case are Sasikala, her sister Ilavarasi and nephew Sudhakaran who the prosecution alleged abetted Jayalalithaa by acting as benami owners of 32 private firms to launder the illicit funds.
This has finally put an end to the over week long drama in Tamil Nadu where O Panneerselvam and Sasikala were battling for the chief minister's chair. Sasikala had managed to hold majority of the MLAs together, keeping them locked at a resort in Chennai to prevent defection to the rival camp.
Now all eyes are on Tamil Nadu Governor Vidyasagar Rao on the next steps that he will take to ensure a stable government in the state. Sasikala is expected to push her nominee to prevent Panneerselvam's return as chief minister.
Sasikala's faction, that has about 125 of the party's 134 MLAs, will now have to elect a new leader who will approach the Governor with a new request for the opportunity to prove his or her majority.
Panneerselvam now has nine state lawmakers and 12 parliamentarians backing him. Two MLAs escaped from the resort late last night and landed at Panneerselvam's house expressing their support for him.
But it is anyone's guess whether she will now be able to command the same hold over the party MLAs with her conviction and jail term for the next four years.