'Stung Media Houses Tried To Intimidate Us': Cobrapost's Aniruddha Bahal
Bahal spoke to BOOM's Founding Editor Govindraj Ethiraj and explained why sting journalism is necessary and in public interest when it comes to exposing issues that cannot be reported otherwise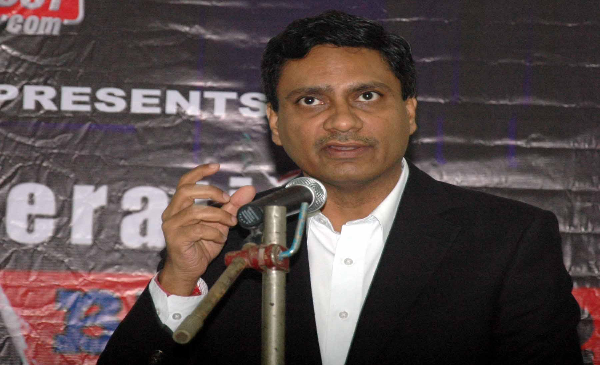 Aniruddha Bahal, Founder, Cobrapost
Investigative portal Cobrapost's founder Aniruddha Bahal has defended the two-part investigative series Operation-136 that stung around 50 media houses in the country exposing their top officials agreeing to peddle Hindutva for money. Bahal said that some of the media houses tried to intimidate them when questionnaires were sent but many of them have admitted that they met the reporter.
Codenamed Operation-136, freelance reporter Pushp Sharma disguised himself as Acharya Atal and approached top media officials from organisations like the Times Group, India Today, India TV and offered to pay money if they agree to peddle Hindutva and target political rivals of the BJP. While the media organisations have disputed the findings of the investigation, officials of these outlets except for two Bengali newspapers can be seen on camera discussing ways to run the campaign without expressing any reservations.
Also Read: Peddling Hindutva For Cash? Cobrapost Stings Top Media Houses, Paytm
Bahal spoke to BOOM's Founding Editor Govindraj Ethiraj and explained why sting journalism is necessary and in public interest when it comes to exposing issues that cannot be reported otherwise. Bahal also addressed queries on the controversial past of Pushp Sharma who conducted the sting operation and why that does not impact the credibility of the investigation.
Q: Aniruddha, what was the start point for this investigation. What made you say that you want to sting media houses with this angle of Hindutva?
You see you needed an identity that you could sustain for several months. Suppose you went to them that I want to peddle this particular drug or clothing line, that could only take you so far. No media house would have understood why you want to sustain a drug over 8 months. There is a whole campaign about it. Your identity had to be something that can be sustained over several months, should be plausible and should also show that the Indian media houses were perhaps even susceptible to peddling ideology for money.
Q: Why did you choose ideology as a defining product?
As I said, If you went with a particular brand, you couldn't sustain it over a long period of time. So it had to be ideological. What is the crux of, say a media organisation which is willing to push a political party or an ideology, what does it say about that organisation? Is your edit page available for compromise? What is available for compromise?
Q: The reasons you went into this is because you already felt that media organisation were compromised. Is that a fair question?
There are a lot of available matter, people have done reports, anecdotal evidence and gossip about which media house is doing what. Based on prior information, we went ahead with it.
Q: Were there some organisations left out or every organisations of a certain size and scale chosen?
At the end, there are 50,000 registered media organisations in India. It was not humanly possible to approach everyone. But it was a conscious decision that we wanted to avoid the charge of aberrations. We wanted to show the endemic nature of it. And the fact that even in one organisation, there were 15-16 people willing to pushing that line, so you cannot even say that it was an aberration in any particular organisation.
Q: One question we have received that NDTV was not targeted as part of this operation. Is that true?
No, that is wrong. Actually, NDTV was a positive case. They requested they be kept out of it. They didn't even want themselves to be shown as a positive case. I have said that elsewhere. There were organisations that did not reach the threshold of publishing.
Q: So you mean to stay that you did sting NDTV but the material that came up in the investigation did not show them to be susceptible?
Thats right. It showed NDTV in a very positive light.
Q: Would it be fair to put the videos out there so that people can decide?
We had a collective editorial decision. We gave NDTV the option of being run as a positive case. They said they don't want to be there at all.
Q: When you look at stings, are they the starting point in an investigation, mid-point, an end point. Where do they sit in the package?
By and large, you use hidden cameras only when you think there is no other way to get the story. If you look at the stories we have done, for example, 28 banks resorting to money laundering. I don't think if you go to the banks with open cameras, they would say that they would take in cash, you could put it in your lockers, you could fudge (inaudible). So if anyone says that they can expose this type of money laundering at this scale and can be done without hidden cameras, then we need to pool hands. So there are stories that you can track and there are also ways that you can misuse cameras. Depends on how intelligently you use it.
Q: How did media organisations respond when you send questionnaires?
Broadly, they were intimidating in general. We will basically do A to Z to you or whatever else. But a lot of them also admitted to the meetings. If you admit to the meetings then it is a matter of interpretation of what you said there.
Q: When you now look back after these two tranches of investigation, is there anything that you have seen or received any reaction that were different or not expected from when you got into this exercise?
I was not shocked at all. I was actually shocked at the endemic nature of it. Out of the 50 media organisations, only 2 or 3 are explicitly telling you NO, isn't that a big reflection on India media? Please understand Rupert Murdoch had to shut down News of the World tabloid, a more than 150-year old newspaper because of allegations of telephone hacking and others. Here there are 45 odd media organisations saying that they will help you influence the Indian elections, polarise the electorate, defame their political rivals, take compensation in cash, etc etc, its like open season, there is no investigation or anything.
Q: So there is a report in The Print about the charges against the reporter Pushp Sharma about extortion. Were you aware about the charges against him?
Infact, we pushed out that story when we did Part-1. I personally think these are malicious persecutions. One relates to the fact when he exposed a whole bunch of traffic cops and he had deposited that evidence with the police and they subsequently arrested him. Also the RTI investigation was about how the Aayush ministry were not hiring minority teachers at all for Yoga which embarrassed the government. And the knee-jerk reaction they did was to arrest the journalist. The forensic report exonerated him.
Q: So Aniruddha, this reporter doesn't work for you. So from outside how it is being viewed is that you partnered with someone whom you really don't know beyond a point for a certain objective?
We have partnered with him but we have done our due-diligence, we have seen his work before. His work has come in Tehelka which won an award, he has worked with India Today, he has worked in other media organisations and his stories have appeared in the Outlook. So he is not an unknown entity.
Q: To come back to the primary question, can sting operations lead to uncovering of facts? Do you feel that they have been able to get down to facts and do what good journalism should do?
Of course many times it has happened. Our banking story resulted in KYC reforms. Did you ever hear about the RBI fine banks beyond Rs 2 lakhs or Rs 5 lakhs? For the first time after the Cobrapost investigation, they started fining banks Rs 2 crores or Rs 5 crores. So thats the incremental benefit that the entire system had. It led to a case where you could not sell insurance.
If you look at our story about parliamentarians taking cash for asking questions in parliament. This was at a time when the RTI wasn't there. And the only way to get answers from the government were through parliamentary questions. And 11 of them were dismissed from the Indian Parliament. Isn't that an impact, isn't that unearthing something? Look at our 1984 riots story and how various police officers are now saying what happened, Babri Masjid case or Muslim clerics taking money to issue fatwas. Of course it unearths stuff which you thought never existed.
Q: If you look ahead now, what is the kind of role you see for stings or investigative journalism to solve some of the structural challenges we face in the country?
This is just one tool. We have done a lot of stories on RTI, lot of document based stories. It is just that undercover investigations are so much talked about. If you remember, we have done an entire NPA series. Its a whole range of stuff. Don't think that as an organisation we only do undercover stuff.
Q: Anirrudha, I know you may not answer this. But what's the next sting going to be on?
(Laughs) We are working on something. Last two years we have done 6-7 undercover stuff unlike channels who are doing much more than us. India Today for instance must have done some 70 stories using hidden cameras in the last two years. It is just that a lot of it is not too imaginative.