Street Play Passed Off As TMC Favouring Rohingyas
BOOM found the original video of the street play, where the woman playing Mamata Banerjee addresses the Rohingyas
A cropped video of a street play where an actress is impersonating West Bengal's chief minister Mamata Banerjee has resurfaced on social media with misleading claims. BOOM had earlier debunked the video in Bangla and found that it was a street play being shared falsely as TMC is favouring Rohingyas.
In the 2 minute 38 second long video, a white sari clad woman can be seen interviewed, flanked by a police officer and supporters. The video is doing the rounds with claims that Trinamool Congress' Uluberia candidate Sajda Ahmed has imposed a restriction on chants of Ram and Marxism in Bengal. It has been captioned as, "TMC candidate of Ulluberia Sajda Ahmed announces that Harinam and Ramnam and Marxism will not be allowed in West Bengal and Rohingyas will be given shelter in West Bengal."
The woman animatedly announces that she will not let the Centre muddle with the state's affairs when it comes to the Rohingyas. She is then asked by the anchor, "Didi, you are saying you will let them (Rohingyas) stay here. But what about the locals of West Bengal?" To that, the woman answers, "West Bengal's people will stay as they used to, and these people (Rohingyas) will stay the way they want to."
Moments later, she asks the anchor, "How dare you ask such questions?" in a dramatic fashion. She further adds, "Allah will look after them and protect them and I will ensure the safety of my Muslim brothers and sisters" and received an applause from the crowd who can be heard chanting 'Allah hu Akbar.'
She then takes a dig at the residing Hindus of the state who chants Hari naam and the Communists who laud Marxism. "I am not going to tolerate all this 'Harinaam' and 'Communists' chanting Marxist slogans," she says, as, the police officer agrees in unison.
Later, when the anchor quizzes her about the security of West Bengal in terms of terrorist infiltration from Bangladesh, the visibly agitated leader instructs the police officer to cancel his license. "I will not let the Centre's conspiracy affect us. All the West Bengal people will stay together," she adds, further accusing the anchor of being bribed by the Narendra Modi government.
You can watch the full video below
The video is viral on Whatsapp with a similar claim as well.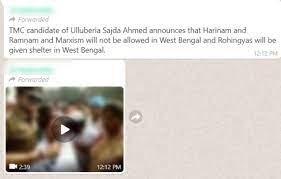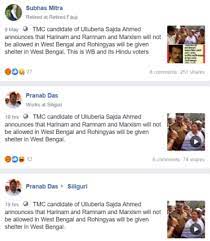 Fact Check
BOOM Bangla debunked the video which was viral on social media with a similar claim, earlier. We analysed the video carefully, broke it into key frames and ran a reverse image search.
Interestingly, the behaviour of the police, who was agreeing to whatever the leader said, gave away most of it.
We came across a longer version of the video on Youtube after a keyword search, which was uploaded on May 6, last year by Sri Rathin Sanatan.
From the 2.54 minute mark, the anchor addresses the crowd and mentions that the woman was playing the role of Mamata Banerjee. He says, "I want to inform the viewers now that you saw how our honourable chief minister made promises to these people (Rohingya)." He further keeps a question for the audiences present, "If a question arises about the safety of the country because of the Rohingyas, then who should be held responsible? I want to throw this question open to the viewers."
Claim Review :
TMC candidate of Ulluberia Sajda Ahmed announces that Harinam and Ramnam and Marxism will not be allowed in West Bengal
Claimed By :
FACEBOOK POSTS