Six-year Old Video Of A Pakistani Police Crackdown Falsely Shared As Kashmir
BOOM found that the video is from June 2013 when police in Pakistan's Punjab province cracked down on people protesting electricity cuts in the area.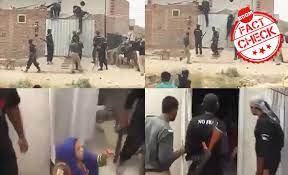 A six year old video showing Pakistani police crackdown on protesters in Punjab (Pakistan) is being shared with a false claim that it shows excesses committed by Indian police in Kashmir.
BOOM had debunked the same video in January 2018 when it was shared with a false claim that a Hindu family in Pakistan was attacked by police for placing a saffron flag on their house.
ALSO READ - Did Pakistani Police Attack A Hindu Family For Hoisting A Saffron Flag?
The video posted by Facebook user Naseem Ashraf on August 27, 2019 had close to 10,700 shares at the time of writing the story.
The thirty second clip shows men wearing a black police uniform scale the gate of a house. Later, the video shows the uniformed men kicking doors open as a woman appears to be seated on the floor. The words 'police' and 'no fear' can be read on the t-shirts of the men in the video.
The caption of the video says, "'Godi' media is busy showing people things are normal in Kashmir."
(Translated from Hindi text - गोदि मीडिया ये दिखाने में लगा है कि कश्मीर में लोग अमन से हैं )
Click here to view an archived version of the post.
BOOM Reports
FACT CHECK
The video dates back to June 2013 and was shot near the city of Faisalabad in Pakistan's eastern province of Punjab. Dunya News also reported about the incident.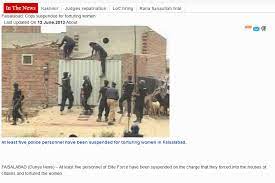 A large group of people from villages around Khurrianwala town were protesting against unannounced load shedding. Protesters who claimed they were facing power outages of 14-16 hours a day, burnt tires, pelted stones at police vehicles and blocked several roads of Faisalabad, news articles at the time reported.
They also attacked a grid station and offices of private utility Faisalabad Electric Supply Company (Fesco).
Police chased after the protesters and forcefully entered their homes by scaling walls or breaking open the gates and thrashing anyone they found there.
Images capturing excesses by the police created outrage in Punjab. An inquiry team was set up under directions of then Chief Minister Shahbaz Sharif to investigate claims that police had misbehaved with women protesters and children. Five cops were suspended at the time.
Claim Review :
Video shows a police crackdown in Kashmir
Claimed By :
Facebook posts