Delhi Citizens Want Full Statehood: Exclusive CVoter Poll
[video type='youtube' id='Msq57nNuReo' height='350']
An exclusive poll conducted by the CVoter Foundation reflects that most people in Delhi want full statehood if a referendum on the matter were to be held today.
Out of the 3,000 people polled, a majority of 81 per cent said "yes" when asked if Delhi should get full statehood.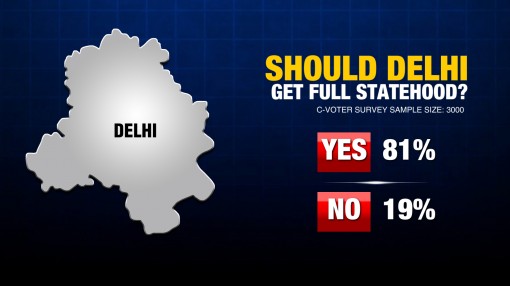 The AAP (Aam Aadmi Party) government wants Delhiites to decide if the Capital should be granted status of a state. "Do a referendum in Delhi. Draft a law and create machinery for referendum," said Chief Minister Arvind Kejriwal in a note addressed to the urban department and circulated among other sections.
"The public sentiment does not really surprise me. All political parties, AAP, BJP and Congress, have over the years, campaigned for full statehood for Delhi. The people are supporting this as an issue. But, at the same time, they are very clear that the parties are playing a game of political football with it," explained Yashwant Deshmukh, Managing Director and Editor of CVoter Foundation.
The poll showed that 62 per cent of BJP (Bhartiya Janata Party) voters and 85 per cent of Congress supporters want complete statehood for Delhi. 92 per cent of women support the move, while 73 per cent of men replied in the affirmative.
When the people polled were asked who between AAP in Delhi and the BJP government at the Centre was doing more for the capital, 48 per cent picked AAP while 30 per cent went with BJP. 22 per cent believed that the two parties were fighting with each other and wasting time.
The discussion on the polls about the referendum turned into a heated argument between Deshmukh and Richa Pandey, the spokesperson of AAP, on its very validity.
"In the Indian constitution, there is no provision for a referendum whatsoever. The only thing that the government can do is hold opinion polls," Deshmukh reiterated.
According to the poll, 46 per cent of the respondents said that they hopeful statehood would bring forth a change and help solve issues related to governance and law & order, 26 per cent disagreed and 28 per cent of the respondents believed full statehood would actually have no effect at all.