Shocking Video Of Elephant Trampling Man To Death In Sri Lanka Shared As India
Sri Lanka forest officials tell BOOM incident took place in Yala National Park and not Masinagudi, Tamil Nadu.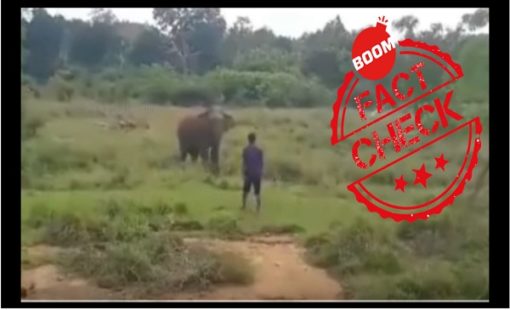 A disturbing video from Sri Lanka showing an elephant trample a man to death is being shared on Facebook and Whatsapp in India with misleading claims that the incident happened in Tamil Nadu.
The 35 seconds video shows an elephant wandering in the jungle when a man approaches it in an attempt to get its attention. In the next few seconds the man attempts to 'tame' the animal by raising his hand but the elephant gets agitated and charges towards him. The video also shows another man trying to run to the rescue of the victim while women and children can be heard screaming in the background.
The video is viral on social media with a caption 'A man who was trying to take selfie was killed by the Elephant yesterday in Masinagudi.'
WARNING: The below video is graphic in nature.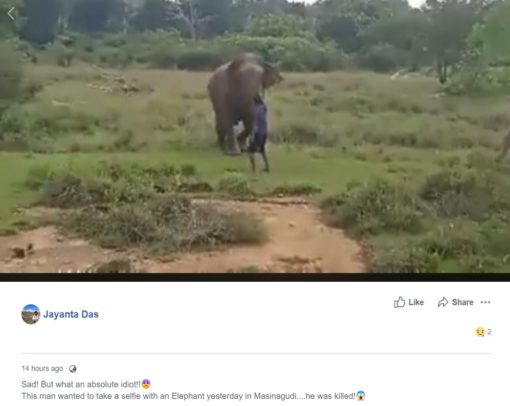 INCIDENT FROM SRI LANKA NOT INDIA
BOOM analysed the video and found media reports claiming that the incident happened in Yala National Park, Sri Lanka. The incident was also reported by a local digital news website News 1st based in Sri Lanka. Read here.
We also contacted the Department of Wildlife Conservation, Sri Lanka who confirmed that the incident had happened in Sri Lanka.
Speaking to BOOM, Assistant Director, Weerasinghe Shantha said, "The incident happened on December 18 in Yala National Park located in Hambantota in Sri Lanka. One person was attempting to use magic and trickery to try and tame the elephant. Since such attempts do not work, the elephant sensing danger to itself, attacked the victim."
He added that man was not trying to click a selfie with the elephant. "It is not clear whether the victim was intoxicated at the time of the incident. There are other videos too where people can be seen trying to tame the elephant using the same method and he may have been following the same."
We are glad to bring you this fact check. If you are happy with our mission to keep the internet safe of disinformation, do support us by clicking on the link