Shiva Idol Damaged By Lightning, Preliminary Investigation Shows:Police
BOOM spoke to Arjuni Morgaon police who denied any communal angle to the incident.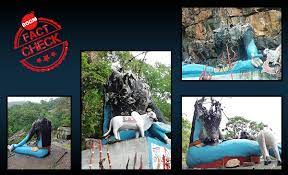 A preliminary investigation into the destruction of a 15-foot tall Shiva idol atop the Pratapgarh hills shows that it was struck by lightning during a thunderstorm, local police in Maharashtra's Gondia district have told BOOM.
BOOM got in touch with the Arjuni Morgaon police station after viral social media posts claimed the idol was vandalised and burnt by Muslims.
Local police though have denied a communal angle to the incident.
"Preliminary investigation into the incident suggest that on 24 - 25 of this month (July) there was a thunderstorm during which the idol was damaged due to lightning," a local police official told BOOM.
"Samples have been sent to Nagpur for investigation whose report we will receive in seven to eight days," he added.
Viral photos on social media show a large blue idol of Shiva burnt from the head down to its waist.
The 15-foot tall idol atop Pratapgarh hills is made of Plaster of Paris and fiberglass, according to a news report.
The images are being shared on Facebook with a caption that insinuates Muslims were responsible for the destruction.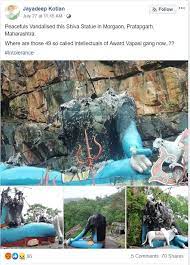 Click here to view the post, and here for an archive.
Viral on Twitter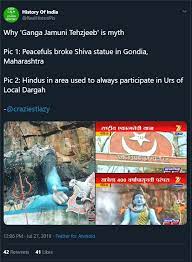 Click here to view post, and here for an archive.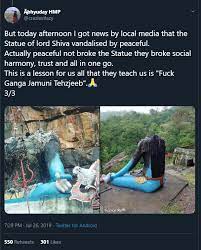 Click here to view the tweet, and here for an archive.
An article by Press Trust Of India (PTI) reported on July 26, 2019 that a Shiva statue was found in half-burnt condition on a hill in Arjuni Morgaon tehsil in Gondia district with the police's preliminary inspection suggesting that lightning may have struck it.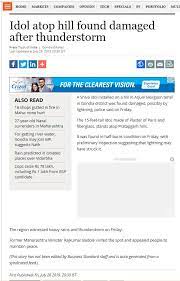 Alt News had also previously debunked the viral images.
Also Read: Pimpri Police Dismiss Communal Angle In Hitesh Mulchandani Murder