Fact Check
Republic TV's Facebook Poll Backfires; Majority Say They Will Not Stand With Varnika Kundu
1583 people said NO - which means they will not stand with Varnika Kundu as compared to 1442 comments saying YES. But what was this poll hoping to achieve?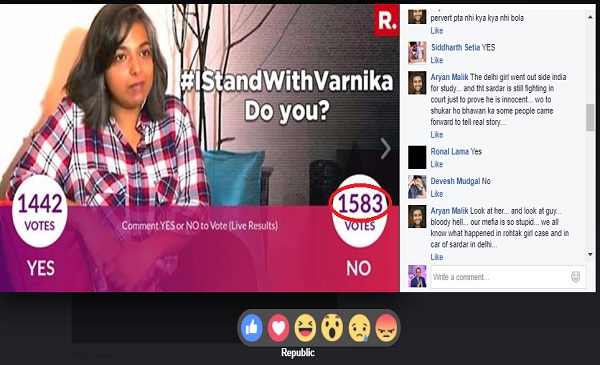 Screenshot of Republic's Facebook post
The rush to seek public opinion by news channels on a developing news story can often throw up unexpected results. Republic TV owned by Arnab Goswami today faced one such embarrassing moment when they ran a poll on Facebook asking their viewers to express if they stand with Varnika Kundu, who has accused Vikas Barala, son of Haryana state BJP President Subhash Barala of stalking and attempting to kidnap her. Barala was arrested today after being charged with trying to kidnap Kundu after relevant sections were added following public outrage over bail granted to him earlier this week.
Strangely, Republic TV who have covered the story non-stop over the last two days gave the options 'YES' or 'NO'. For a channel that was running a hashtag #IStandWithVarnika, Do You?, the results turned out to be rather shocking.
1583 people said NO - which means they will not stand with Varnika as compared to 1442 YES comments.
It was unclear why Republic decided to do such a poll. Did they find it difficult to believe the account of the victim and wanted to know if their viewers think the same? Or was it an effort to provoke its viewers and drive the debate as they move towards their prime time show in the evening in support of Varnika?
In the event that there were any doubts over her account, it was the job of Republic to investigate and find out the truth rather than leave it to the court of public opinion. If the poll was in Varnika's favour, Barala's legal team could have also make a contrary argument. Should news channels be allowed to run polls that call a person guilty when the case is subjudice?
Sensing the backlash that the post was generating on Facebook, the poll was deleted but not before we took a screenshot of the post. Look at the comments with the post and one can understand why there was such a backlash. Knowingly or unknowingly, Republic gave a platform to vile comments from those who wanted to normalise and generate a narrative that Varnika lied about the incident.
It is understandable that social media engagement is a valid form of promotion of the day's stories for any news channel. But by posting a poll in a case where allegations are being made about VVIP treatment being given to the son of a powerful poltician according to Republic's own stories, the channel also helped in the process of shaming the victim that is clearly evident from the comments posted on the poll.
Interestingly, at the time this poll was running on Facebook, the channel's editor Arnab Goswami was also interviewing Varnika Kundu and her father, praising them for the bold steps taken by them without fearing the high and the mighty.
Apart from the channel's irresponsible post on Facebook before it was deleted, the fact that more people chose the option 'NO' also came as a shock to many on the social media platform.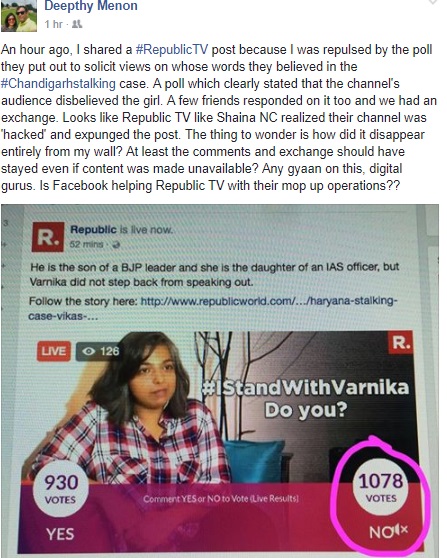 BOOM reached out to Republic TV on Twitter. We are still waiting for their response. We will update when we hear from Republic.
.@republic, Have you deleted your FB poll? Why was this poll done in the first place? Was it removed since more people said NO than YES? pic.twitter.com/IfQftQSpSP

— BOOM FactCheck (@boomlive_in) August 9, 2017
Do you always want to share the authentic news with your friends?
Subscribed Successfully...
Enter Valid Email Id