Repeat Offender Paresh Rawal Tweets Fake News About 26/11 Martyr
Paresh Rawal does it again, shares fake news about a 26/11 martyr Sandeep Unnikrishnan.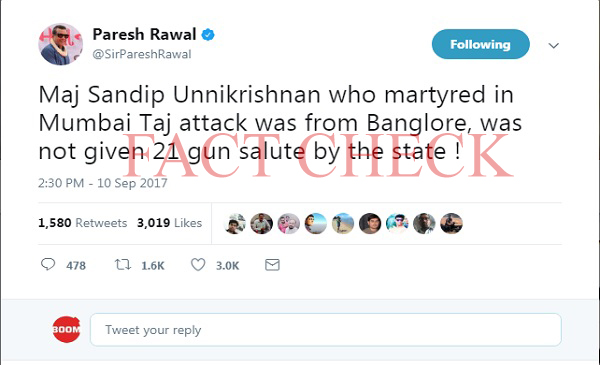 Actor and Member of Parliament Paresh Rawal who has gained notoriety for tweeting fake news did it again on Sunday when he wrote that Major Sandeep Unnikrishnan who was martyred during the 2008 terror attacks in Mumbai was not given a 21-gun salute at his funeral.
The Bharatiya Janata Party (BJP)  MP miffed that slain journalist Gauri Lankesh a fierce critic of the right-wing was buried with state honours this week by a Congress-led Karnataka government, tweeted the following.
Maj Sandip Unnikrishnan who martyred in Mumbai Taj attack was from Banglore, was not given 21 gun salute by the state !

— Paresh Rawal (@SirPareshRawal) September 10, 2017
Major Sandeep Unnikrishnan, who was killed in combat, led the commando operation launched on 27th November 2008 to flush out terrorists from Hotel Taj Mahal in Mumbai in which he rescued 14 hostages.
Even a cursory Google search to fact check the statement by Rawal who has 5,77000 followers shows why it is so problematic. Major Sandeep Unnikrishnan's Wikipedia page says his funeral was held with full military honours.
This is also backed up by news reports from the time.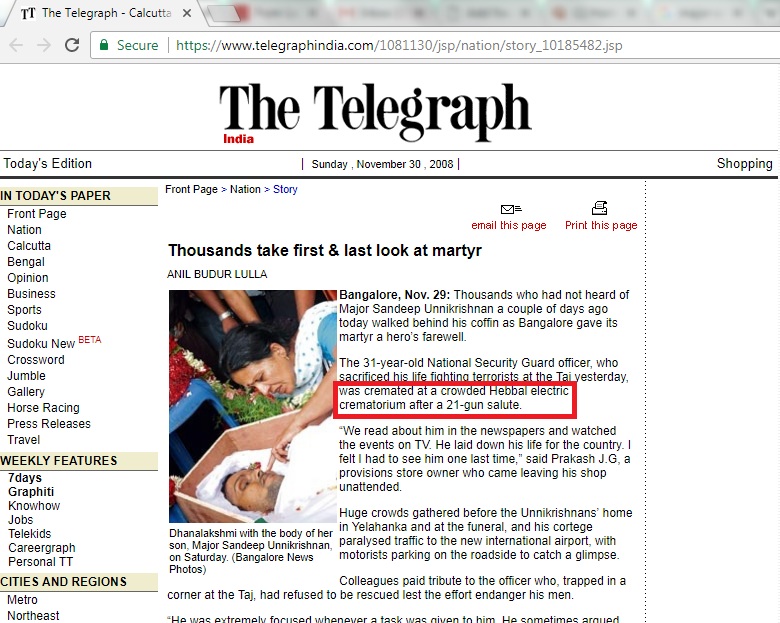 Source: Thousands take first & last look at martyr
Source: Remembering Sandeep Unnikrishnan: All about the 26/11 martyr
It was doubly embarrassing for the actor as Twitter users reminded him that the BJP led by BS Yeddyurappa ruled Karnataka at the time. His tweet attracted over 500 replies, most of them reminding him to Google before tweeting.
Proud of you sir..
For exposing the anti National CM who was heading Karnataka government in 2008.
Hats off.. 👏👏👏👏👏 pic.twitter.com/sp6wNK6sIW

— Shana Kauva (@ShaanaKauva) September 10, 2017
But rather than delete the tweet Rawal tweeted this bizarre explanation.
Sorry the Word NOT was written by mistake in Maj Sandip's tweet . So pardon the mistake n get the sarcasm !

— Paresh Rawal (@SirPareshRawal) September 10, 2017
Paresh Rawal routinely shares posts from fake news propaganda site Postcard.News. In the past he shared an image from Iraq implying it to be flood rescue operations conducted by the Indian Army in Kashmir.
This photo shared by many including @SirPareshRawal is not from rescue operations in Kashmir. It's from Iraq. pic.twitter.com/nFg9sDlqau

— BOOM FactCheck (@boomlive_in) July 19, 2017
It's not just Paresh Rawal alone, other supporters of the BJP evidently upset with Gauri Lankesh receiving state honours have also tweeted fake news about another combat hero of India who died in action.
Lieutenant Colonel of the National Security Guard, Niranjan Kumar. He was killed in Pathankot in 2016 while trying to defuse a bomb at the airbase where militants laid siege.
RT if you agree pic.twitter.com/7aJTThqw6J

— Rishi Bagree 🇮🇳 (@rishibagree) September 9, 2017
Once again a fact check revealed the above statement to be false.  Lt. Col. Niranjan received full military honours in Kerala.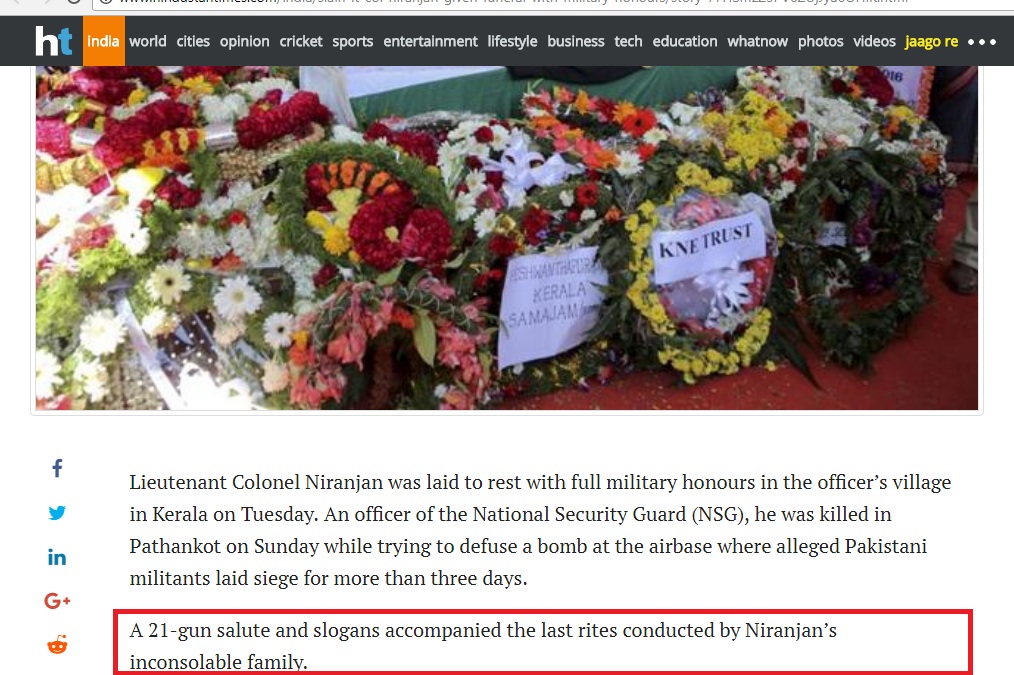 ALSO WATCH OUR VIDEO FACT CHECK