Real Footage Of Child Sacrifice Or Village Drama? Find out
BOOM found that the footage was from a 2018 staged village procession dedicated to "Mother Chamunda" in Rajasthan's Bhilwara.
A 2018 footage of a staged village drama in Rajasthan has been revived as a real incident of child sacrifice.
The video was shared on Facebook by user "Furqan SaLeem Furqan" and has been shared more than 9,000 times, while garnering 1,200 reactions from users.
Trigger Warning: Certain elements of this story maybe disturbing to some people.
The video shows a procession of marching people, carrying what looks like the severed head of a young boy. Some of the people marching ahead are also seen carrying swords with alleged blood stains on them.
Fact Check
BOOM performed reverse image searches with several keyframes, and eventually came across an article by The Print dated October 20, 2019 that carried an image of the same procession, with the child's head on display.
According to the article, SMHoaxSlayer had contacted Rajasthan Police in October 2018, who had refuted any claims of a real child sacrifice taking place and stated that the entire procession was staged, and was meant for entertainment.
The police also stated that such processions "take place annually during Navaratri in the name of Mother Chamunda".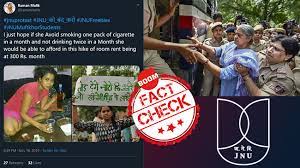 BOOM also found a report by The New Indian Express, which stated that child sacrifice was staged and the procession was meant as entertainment.
In October 2018, just after the incident happened, the video went viral with similar claims of real child sacrifice.
Following this, Rajasthan Police gave out a statement on Twitter, to put to rest the viral rumours.