Rape Cases Rise Under Modi Govt? How The Congress Got It Wrong
Congress social media chief Divya Spandana claimed there has been a 22.2% rise in rape cases while reviewing Modi government's 3-year performance.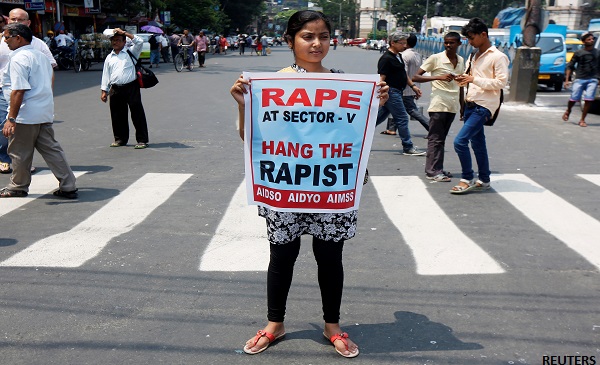 An activist of the Socialist Unity Centre of India (SUCI) holds a poster during a protest against the recent gang-rape of a woman in a moving car, according to local media, in Kolkata, India May 31, 2016. REUTERS/Rupak De Chowdhuri
On May 16, 2017, the All India National Congress organised a press briefing to review the three year performance of the Narendra Modi government.
During the press conference, the Congress party attacked the BJP government for its failures over the past three years. The Congress party's newly appointed social media chief Divya Spandana raised concerns about women's safety under the Modi government. Speaking about the unspent Nirbhaya fund, Divya argued that despite the government's claims on measures taken to protect women, there has been a 22.2% rise in rape cases (no time period mentioned). She also claimed that only 20 out of the 660 proposed one-stop centres have been made operational and concluded by saying "I don't think the BJP government is doing anything for the security of women today".
There has been a 22.2% rise in Rape cases. Of 660 One-stop Centers, only 20 set up. Nirbhaya Fund not utilized: @divyaspandana #3FailedYears

— INC India (@INCIndia) May 16, 2017
Claim 1: There has been a 22.2% rise in rape cases.
From the above statement, a layman would interpret, that since the Modi government came into power (from May 2014 till date), the percentage increase of rape cases is 22.2%. However the National Crime Records Bureau or NCRB data quoted by Divya and the Congress only gives out information on registered crimes till the year 2015.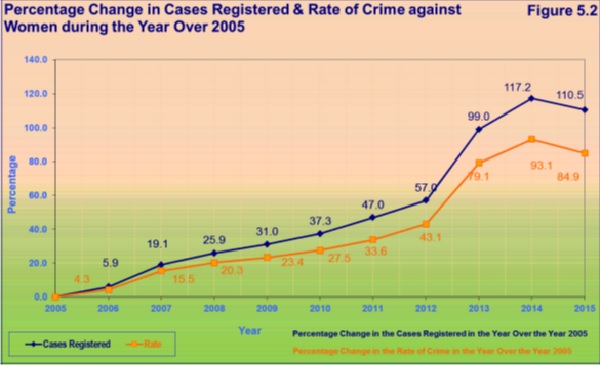 Source: NCRB
'
The percentage increase of rape cases were calculated based on the Quinquennial average i.e. during 2010-2014 and the number of cases during 2015. The 22.2% figure is arrived at after comparing the number of rape cases in 2015 with the Quinquennial average of 28349 cases. An average of 5 years is taken, in order to wipe out any seasonal fluctuation, said a source from the National Crime Records Bureau (NCRB). For instance, if we had to calculate the percentage change of 2013 from 2012, there is an abnormal increase in the number of rape cases. Interestingly, this was also the time when Congress led UPA was in power.
Looking at the number of rape cases, the NCRB Crime Report show an increase of 38% in 2013 (33707 cases) vs 2012 (24293 cases), 9% in 2014 (36,735 cases) vs 2013 and a decrease of 5.7% was reported in 2015 (34,651 cases) vs 2014.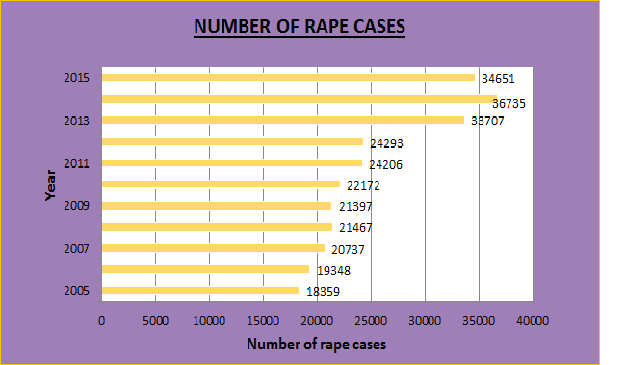 Source: NCRB
While the Congress is right about the 22.2% rise in rape cases, it is also necessary to point out that it is not an apples-to-apples comparison. The BJP can claim that on simple comparison between 2014 and 2015, the number of reported cases have seen a decline, even though that does not necessarily suggest any declining trend.
The NCRB data also shows that the overall crime against women, have continuously increased during 2011-2014. There was a small decline in 2015.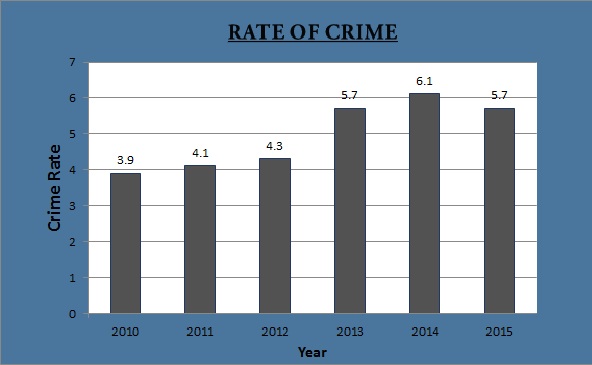 Note: "Crime rate for crimes committed against women has been calculated using only female population which is based on mid-year projected female population for the year 2015."
Source: NCRB
Claim 2: Of 660 One Stop centres, only 20 are operational.
BOOM analysis found this claim to be wrong as the numbers reported by the government in the Parliament are much higher.
One Stop centre Scheme was established in April 2015, to support women affected by violence. The scheme aims to facilitate access to an integrated range of services including medical aid, police assistance, legal aid/case management, psycho-social counselling, temporary support services to women affected by violence.
In the most recent Lok Sabha question, dated 3rd Feb, 2017, the ministry of women and child development states that 150 additional centres have been taken up in the second phase during 2016-2017. The ministry said that it has approved all the proposals received from the States/UT's out of which 68 centres are operational.
But it also seems that the government cannot make up its mind on how many centres have actually been operationalised. A few days earlier on 27th January, 2017, the ministry had issued a press release to counter press reports that the Nirbhaya fund was not being fully utilised. The release said, "186 OSCs are approved to be set up in the country. So far, 79 One Stop Centres have become operational. All the 186 centres are expected to be operational by July, 2017."
However, it would be unfair to draw a conclusion on the Modi government's 3-year performance with regard to women's safety based on the Crime report 2015, when practically speaking he had only completed 18 months since coming to power in May 2014. A better analysis can be done once the data for the year 2016 is released by the NCRB.
References
https://www.facebook.com/RamyaFCOfficial/?hc_ref=SEARCH&fref=nf
https://164.100.47.194/Loksabha/Questions/QResult15.aspx?qref=46315&lsno=16
https://pib.nic.in/newsite/PrintRelease.aspx?relid=157727