Ransomware Cyber Attacks Are Real But These WhatsApp Messages Are False
Creators of fake news and WhatsApp hoaxes are having a field day as countries including India brace themselves for a global 'ransomware' attack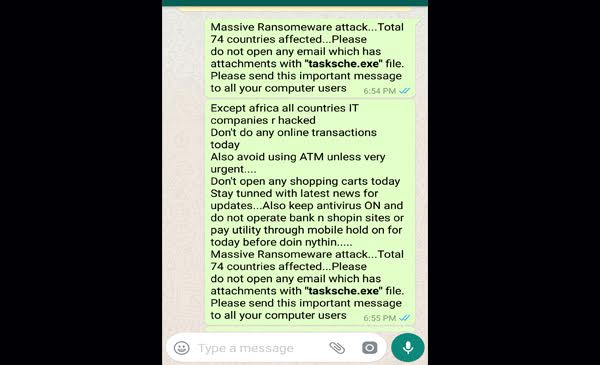 Creators of fake news and WhatsApp hoaxes are having a field day as countries including India scramble to protect IT networks from 'ransomware' attacks that struck over the weekend.
WhatsApp messages warning people that ATMs will be shut over the next few days and that they should stay away from online shopping sites; have gone viral.
A source familiar with the Reserve Bank of India rubbished the WhatsApp forwards that said automated teller machines (ATMs) would be shut.
The source said RBI was keeping a close watch on the latest cyber attack and that it regularly asks banks to update their IT systems to guard against any such attack.
In addition, a bank would have to inform RBI if its systems were compromised by an attack.
Legitimate WhatsApp messages about the cyber attack that urge people to back up their data, not click on links or attachments from unknown sources, run security patches and update operating systems are being combined with completely fake messages.
For example, the below message that is being sent along with other ransomware messages warns of a virus named 'Dance of the Hillary'. No such virus exists, nor does the virus (which supposedly formats data) have any connection to ransomware. BOOM wrote a story debunking the hoax when it was named 'Sonia Disowns Rahul' and 'Dance of the Pope'. The new hoax is nothing but a rehash of the same message. Also, a virus that formats or destroys data cannot demand ransom to retrieve it.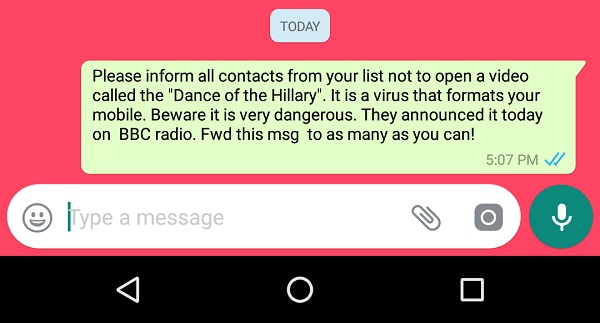 What is ransomware?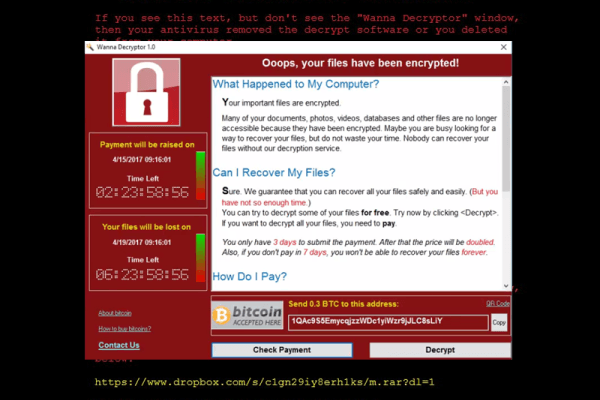 Ransomware is malicious software that blocks access to data unless a ransom is paid. Microsoft Windows operating systems are said to be susceptible to the worm. The vulnerability does not exist within Windows 10, but is present in all versions of Windows prior to that, dating back to Windows XP, the Guardian reported.
In the latest series of attacks, $300 worth bitcoins are demanded as ransom. Bitcoin is a type of crypto currency that makes it harder for cyber security experts and law enforcement authorities to track.
The worm is more likely to spread through corporate IT networks. So far home PC and laptop users have been relatively immune to the attack.
Since Friday, 'Wannacry' ransomware is reported to have hit 200,000 computers in 150 countries; the worst hit have been Britain's National Health Service (NHS) and Russian government departments.
Except for a few isolated incidents in Kerala and Andhra Pradesh, India seems to have suffered no major impact from the cyber attack. IT Minister Ravi Shankar Prasad said the systems run by the National Informatics Centre were secured and running smoothly, PTI reported.
HOW TO KEEP RANSOMWARE AT BAY?
1: Do not open emails from suspicious sources. If opened, direct them to spam immediately
2: Do not download email attachments from suspicious sources
3: Turn off your systems when away for a long time
4: Do not open any unrecognized and suspicious folder/zip file lying on your system; doing so will execute the virus in the folder and start encrypting the files on your system one-by-one
5: Keep strong login passwords for your system - a combination of upper and lower case, special characters and numbers
6: Create a backup of important data at multiple locations, maybe on the cloud, external hard disk, DVD, etc and not just your computer