Fake News
Randeep Surjewala Makes Misleading Claim About Vasundhara Raje's Speech
Randeep Surjewala misrepresents quotes of CM Vasundhara Raje from her speech at a BJP event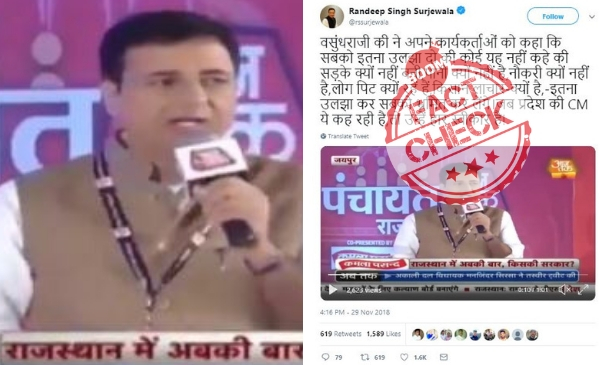 Randeep Singh Surjewala, spokesperson of the Indian National Congress made a misleading claim about Rajasthan Chief Minister Vasundhara Raje when he tweeted on November 29 in Hindi.
A loose translation of his tweet in Hindi said, 'Vasundhara Raje has told the workers of her party to confuse people to such an extent that they do not question why are roads not built, why is there no water, why are there no jobs, why are people being beaten up, why are farmers helpless? When the chief minister of a state is saying this, then she has accepted defeat.'
( "वसुंधराजी की ने अपने कार्यकर्ताओं को कहा कि सबको इतना उलझा दो की कोई यह नहीं कहे की सड़के क्यों नहीं बनी,पानी क्यों नहीं है,नौकरी क्यों नहीं है,लोग पिट क्यों रहें हैं,किसान लाचार-क्यों है,-इतना उलझा कर सबको भ्रमित कर लेंगे।जब प्रदेश की CM ये कह रही है,तो उन्हें हार स्वीकार है!" )
Surjewala made those remarks during an  event held by news channel Aaj Tak in Jaipur. His tweet got more than 600 retweets and 1,600 likes.
वसुंधराजी की ने अपने कार्यकर्ताओं को कहा कि सबको इतना उलझा दो की कोई यह नहीं कहे की सड़के क्यों नहीं बनी,पानी क्यों नहीं है,नौकरी क्यों नहीं है,लोग पिट क्यों रहें हैं,किसान लाचार-क्यों है,-इतना उलझा कर सबको भ्रमित कर लेंगे।जब प्रदेश की CM ये कह रही है,तो उन्हें हार स्वीकार है! pic.twitter.com/0eFQeAJ3zD

— Randeep Singh Surjewala (@rssurjewala) November 29, 2018
However, BOOM found that the statement Surjewala made during the event and his subsequent tweeted were misleading.
We found the full version of the Raje's speech on Bharatiya Janata Party's YouTube channel, uploaded on November 21, 2018 titled, ''Yuva Ri Baat Amit Shah Re Saath', Shri Amit Shah's interaction with Youth of Rajasthan.'
At 23 minutes into the video, Raje is seen saying, "The Congress party has been chanting the slogan 'Gareebi Mitaao' (Eradicate poverty) for the last 50 years, but till today they haven't done any work to eradicate poverty. And when asked about the same they say poverty is not to be eradicated. The more there will be poverty, the more it will benefit us and get us more votes because people won't get the time to ask us why didn't we get any work, why didn't we get water, why weren't the roads built?, as they will be immersed in their pain.
BJP Rajathan Twitter handle also debunked Sujrewala's claim.
अभी तक तो कांग्रेस कार्यकर्ता ही झूठ बोल रहे थे। अब कांग्रेस के नेता सुरजेवाला भी झूठ बोल रहे हैं। कांग्रेस द्वारा फैलाया गया झूठ बेनकाब हो गया है। कमल पर बटन दबाकर जनता इस झूठ का मुंहतोड़ जवाब देगी। #फर्जी_कांग्रेस pic.twitter.com/nKZsyO1q1L

— BJP Rajasthan (@BJP4Rajasthan) November 29, 2018