Comment
Rajnath Singh Praises Sartaj Mohammed For Disowning Son - What If He Didn't?
The sins of the son are not for the father to own or to regret. What message did Rajnath Singh want to send by praising Mohammed in Parliament?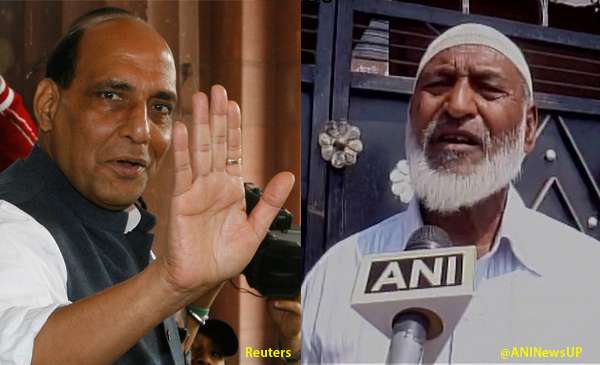 Rajnath Singh (L) & Sartaj Mohammed (R)
Home Minister Rajnath Singh made a brief statement in the Lok Sabha over the Lucknow encounter and praised Sartaj Mohammed, father of slain terrorist Saifullah for disowning his son. Saifullah, aged 22 was killed in a hideout in Lucknow following an intense gun battle that stretched to 12 hours on Wednesday. His family had refused to accept his body at their home in Kanpur, calling him a traitor.
"One who could not belong to the country, how can he belong to us?" said Sartaj Mohammed, overtaken by grief and anger at the action of his youngest son.
Singh speaking in Parliament said, "I express sympathy for the father and I am sure the House joins me. The government is proud of Mohammed Sartaj and I am sure you are too."
While it is understandable that Saifullah's father refused to accept his son's body whose pictures have been splashed over newspapers and TV, the home minister choosing to make him a hero in Parliament is disconcerting. Singh's statement looked to be made in a hurry out of a desire to make a grieving father an example on how a nationalistic Indian should behave in future - even if that means denying them the right to grieve the death of their child privately, however wrong he might be in the eyes of the country - and anyone choosing to conduct the last rites of a slain terrorist, even if they are close family, would be lesser Indians.
And why not? This encounter comes at a perfect time for the BJP led government at the centre. Already under pressure for polarising the country through its narrow definition of nationalism and patriotism, the capture of this 'self-proclaimed ISIS cell' and the encounter of Saifullah is a blessing in disguise. That the sins of the son cannot be attributed to the family even if they had chosen to accept his body and conduct his burial will be a point lost to this government and its hyper-nationalistic supporters.
Why did Saifullah's father refuse to accept his youngest son's body then? We may never know though we can make some guesses based on the prevailing circumstances and how families of terror accused and slain terrorists have been treated in the past. It is an open secret that families of terror accused have faced severe scrutiny not just from the society but also from investigating agencies who keep summoning the rest of the family members even if they have had no connection with the conspiracy. Living with the terrorist tag becomes their destiny for the rest of their lives (Read this).
Sample some of these statements made by the father as reported by FirstPost:
"There is no need to hide a disease, else it becomes an incurable wound," Sartaj told PTI. "We are Indian citizens. I was born here, my ancestors were born here," he said, adding, "Almost everyone in the family is sad. But it is more shame than sadness for what he has done."
"My child has done a wrong thing and I have regrets for it... I would have handed him over to the police had I even an iota of inkling about it... The entire world would have seen and noticed how a father could put his own son in police hands"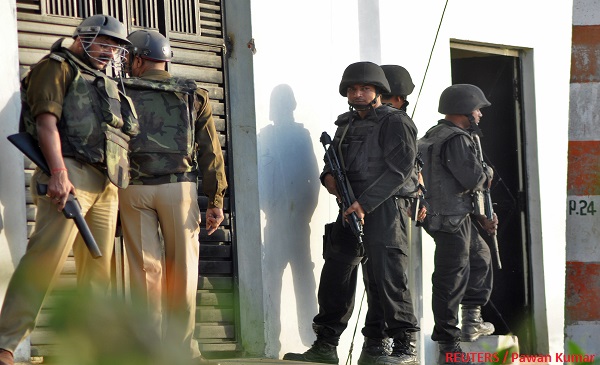 Anti Terrorist Squad (ATS) commandos and local police stand guard outside a house where Saifullah Mohammed was in hiding in Thakurganj area in Lucknow. REUTERS
In many ways Sartaj was pre-empting possible adverse reactions for his surviving family members. The fact that he had to remind reporters about his Indian citizenship and law abiding credentials shows the stress that he was under ever since news broke out about his son being gunned down by the cops. And there is no need to state the obvious that having a muslim surname automatically means making an extra effort to justify your love for the country.
If Sartaj would have heard Congress leader Digvijaya Singh on Times Now reacting to the encounter, his worst fears were coming true. Singh said, "This is a wake-up call for the government not to alienate the Muslims when it comes to providing equal rights and opportunity. The government needs to be more inclusive. Fanatics of any sorts are a problem." While Singh's call to the government may have been well intentioned, the underlying tone is about the community being susceptible to terrorist groups and their influence. Clearly the message was loud and clear for Saifullah's father. Cut your losses before it is too late even if it comes at the cost of disowning your own son.
So what if Sartaj would have accepted his son's body and made statements any troubled father would have made. Would the ideological right condemn him for betraying the country and not expressing enough regret for the actions of his son? And is this a playbook for the future to be followed by all families of terror accused, especially if you belong to the minority community or face the risk of being asked to go to Pakistan?
Clearly best answered by this statement of Saifullah's elder brother Khalid Mohammed as quoted by NDTV.
"My house is open, you can come inside and check. What if tomorrow they raid our house and say we have ammunition?" he asked.
The fears of the family are obvious. Sartaj is no hero. Give him space and let him grieve in peace.
@jencyjac
Do you always want to share the authentic news with your friends?
Subscribed Successfully...
Enter Valid Email Id