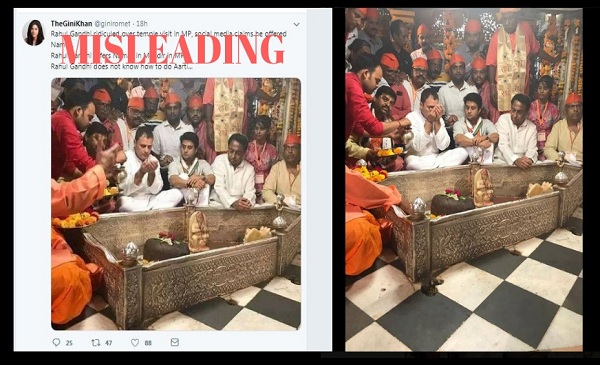 CLAIM:
Rahul Gandhi folded his hands as a gesture to say Namaaz at a Hindu temple.
RATING:
False A photo of Rahul Gandhi along with senior Congress leaders Jyotirao Scindia and Kamal Nath at the Achaleshwar Shiv Mandir in Gwalior has gone viral on Facebook with a misleading context. The photo claims to show Gandhi with folded hands, alleging him of offering Namaaz at a Hindu temple while on the campaign trail in Madhya Pradesh. A Facebook page called '
I Support Narendra Modi
', which has close to 16,00,000 followers, shared the photo taking a dig at the Congress president. The picture received over 1,500 shares at the time of writing this story. Other Bharatiya Janata Party and Narendra Modi fan pages have also
shared
the image mocking Gandhi. The image is also viral on Twitter.
Rahul Gandhi ridiculed over temple visit in MP, social media claims he offered Namaz. Rahul Gandhi offers Namaz in Mandir in MP. Rahul Gandhi does not know how to do Aarti... pic.twitter.com/IMpBbXOGMp � TheGiniKhan (@giniromet) October 16, 2018
The photo, however, is a still from Rahul Gandhi performing various rituals at the temple along with this party colleagues, on Monday. The image was clicked when Gandhi was in the middle of a temple ritual where he is about to consume holy water offered to him by a priest. One of the photos shared by Jyotiraditya M Scindia's verified Facebook page shows another picture which makes it clear that Rahul Gandhi cupped his hand to drink. A video of the same was posted on the Indian National Congress� YouTube page. https://youtu.be/z23jN7WIgd0