Rahul Gandhi Engaged? Satire Video Helps Social Media Rumours Go Viral
How a satire website Faking News's video and an article by Firstpost became fodder for social media rumour mongering.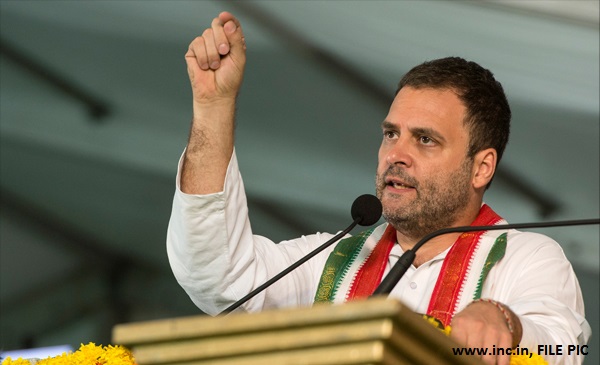 Four photos are being widely shared on social media with the claim that Congress President Rahul Gandhi has got engaged and Robert Vadra, his brother-in-law has confirmed the same.
We got these photos on our BOOM helpline (770090611), asking us if the news is true.
The message along with the photos says, 'Rahul Gandhi is engaged to Aditi Singh D/O Vijay Singh, MLA of Raebareli........ Yes, its true. All speculation over his marriage will finally end. Rahul will get married later this year. Robert Vadra said.'
While the rumours had first gone viral in the month of April and May this year, we found several posts in the month of June as well. (Click here)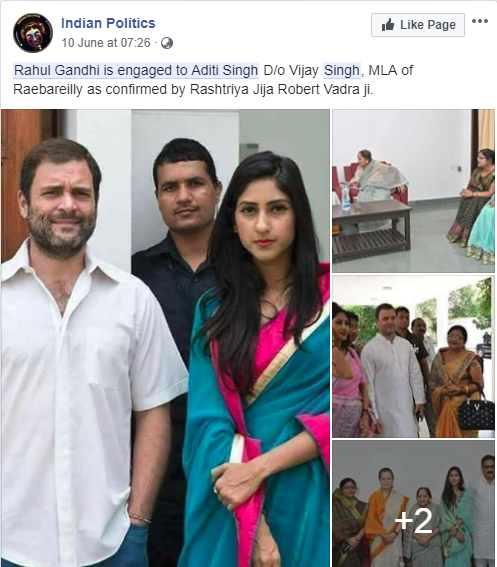 However, this news has been denied by the lady herself who is being linked with Gandhi. She is Aditi Singh, a Congress MLA from Uttar Pradesh's Rae Bareli. In a tweet dated May 6, 2018, she said that Gandhi is her rakhi brother and is saddened by these rumours.
Such rumours upset me. I would like to clarify that Rahul Ji is my rakhi brother and I am really saddened by such rumours on social media

— Aditi Singh (@AditiSinghINC) May 6, 2018
पिछले दो दिनों से सोशल मीडिया पर जो अफवाह फैलाई जा रही है उससे हैरान हूं। राहुल जी न सिर्फ हमारी पार्टी के अध्यक्ष हैं बल्कि मेरे बड़े भाई जैसे हैं। मैं उनका बेहद सम्मान करती हूं। आप सब से निवेदन है कि शादी से संबंधित किसी अफवाह पर ध्यान न दें।

— Aditi Singh (@AditiSinghINC) May 6, 2018
Robert Vadra also denied having said anything about Rahul Gandhi's engagement. Over a Facebook post and tweet dated June 6, 2018 he said, 'rumours carried by "First Post" are complete Fake news' and "publicity at others expense is in poor taste." (Vadra's Facebook profile and Twitter handle are not verified by the platforms)
Please stop🙏 pic.twitter.com/lnCMUUqRdg

— Robert Vadra (@irobertvadra) June 6, 2018
The news of Rahul Gandhi's engagement seems to have originated from a Firstpost article which is being shared along with these photos. A screenshot of an excerpt from the article gives an exclusive quote from Robert Vadra, 'Yes its true. All speculation over his marriage will finally end. Rahulji will get married later this year and I am serious.' However, the article does not mention Congress MLA Aditi Singh.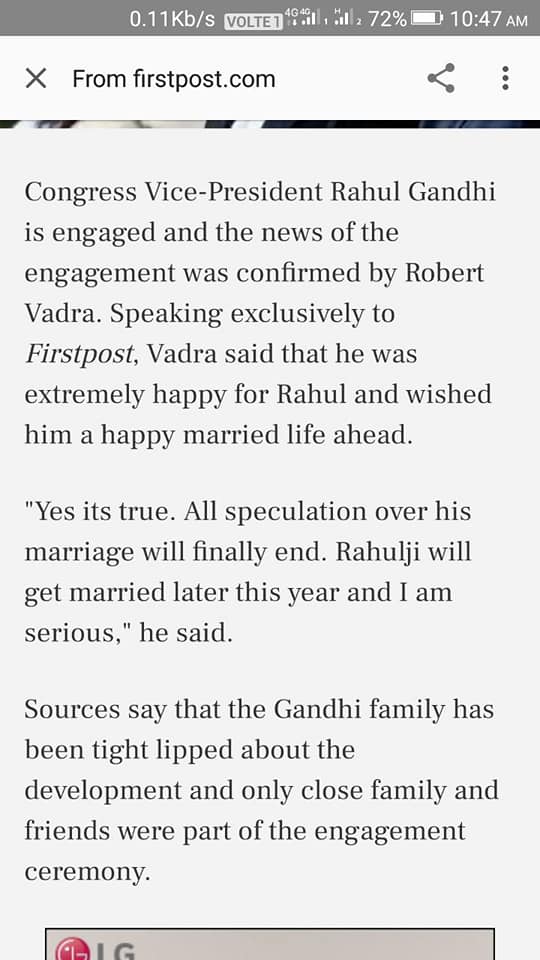 The excerpt is from Firstpost's April 1, 2017 article titled, 'Watch: Rahul Gandhi engaged, Robert Vadra spills the beans'.
The article is also linked to a breaking news video in which a lookalike of Robert Vadra confirms the engagement news. Watch the video below:
The article also has a note at the end which says, Brought to you by Faking News.
Faking news owned by Network18 is an 'Indian news satire website' according to its Twitter description. The website has a disclaimer which says, 'Content of this website is a work of fiction. Readers are advised not to confuse the "news reports" of Faking News as being genuine and true.'
Though BOOM could not find the same article on Faking News website, a different one titled, 'Robert Kadra speaks about Rahul Gandhi's marriage' by Santosh Pradhan dated April 12, 2018 was found on their website.
Both Firstpost and Faking News posted this video on their Facebook pages on April 1, 2017 which shows that this was a prank on April Fool's day.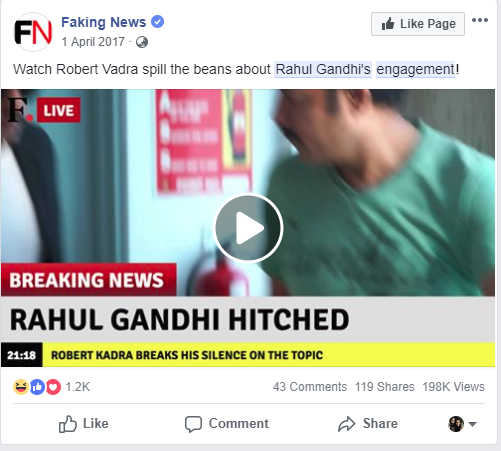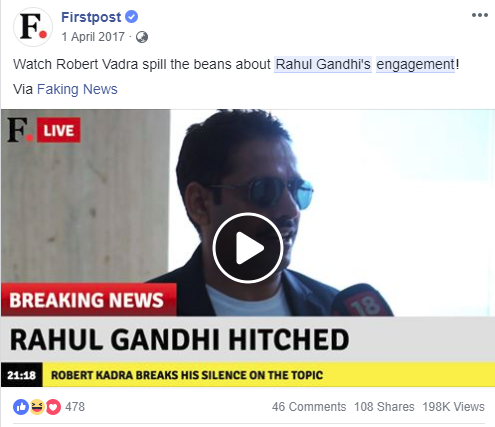 This is not the first time speculations have arose about Rahul Gandhi's love life with several link-ups being attributed by gossip columns that were never confirmed either by Gandhi himself or the party. In October, 2017, Gandhi was cornered by professional boxer Vijender Singh at a business conference, who asked him about his plans to get married.
Sidestepping the question, Gandhi is reported to have replied "I believe in destiny -- Jab hogi, hogi."