Politics
Political Parties Beware! NOTA Is Here To Stay
From seeing an uptick of its use in Mumbai to making its impact felt in atleast six races in Haryana, NOTA has been a hidden electoral force this election.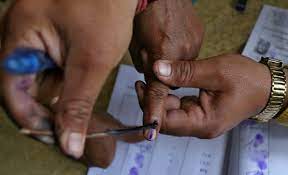 The voting option 'none of the above', popularly known as 'NOTA', has secured the sixth largest vote share in Maharashtra and the fifth largest in Haryana, making its presence felt in the recently concluded elections in both these states. The city of Mumbai has also seen more of its voters resorting to the NOTA option as compared to the 2014 election.
In two seats in Maharashtra, NOTA has even secured more votes than the runner-up contestants for those constituencies.
The elections for the legislative assemblies of Maharashtra and Haryana were held on October 21 and results declared three days later on October 24.
BOOM brings you the most significant insights on how NOTA made its presence felt in these assembly elections.
Vote share of NOTA in Maharashtra and Haryana
In Maharashtra, NOTA secured the sixth largest vote share among major political parties. The Bharatiya Janata Party (BJP) and its ally Shiv Sena, the Congress and its ally Nationalist Congress Party (NCP) and Raj Thackeray's Maharashtra Navnirman Sena (MNS) are the only parties to score more than NOTA in vote-share.
Eight political parties, that have secured anything between 0 to 2 seats this election, have a lesser vote share than NOTA.
In Haryana, NOTA has the fifth largest vote share, with only the major political parties in the fray (Congress, BJP and Indian National Lok Dal) garnering more votes than it. The Bahujan Samaj Party did not win a single seat in Haryana, despite having a vote share of more than 4%.
Neighbouring heavyweight the Aam Aadmi Party (AAP) and Shiromani Akali Dal, BJP's partner in Punjab are the most prominent examples of parties to have a vote share that is less than NOTA.
The Story Of Latur And Palus-Kadegaon
In Maharashtra, two seats have seen NOTA taking the second position. In both these constituencies, NOTA gained more votes than the runner-up competitor.
In Latur (Rural), former CM Vilasrao Deshmukh's son Dhiraj Deshmukh won 1,35,006 votes, defeating the Shiv Sena's Ravi Ramraje Deshmukh by a margin of 1,21,482 votes. This calculation is the difference between him and the votes gained by his Shiv Sena competitor, who gained 13,524 votes. NOTA, however, falls between that margin, gathering 27,500 votes.
In Palus-Kadegaon, Kadam Vishwajeet Patangrao won 1,71,497 votes, with a margin of 1,62,521 votes, defeating the Shiv Sena's Sanjay Vibhute - at 8976 votes. NOTA again gathered more votes than his competitor with 20,631 votes.
Kadam was among the richest candidates to contest the Maharashtra elections, according to a report compiled by the Association For Democratic Reforms.
Also Read: Maharashtra Elections: Data Show A Third Of Candidates Are Crorepatis
NOTA Usage Spurts In Mumbai
Out of Mumbai city's 36 assembly seats, atleast 5 seats have seen the number of NOTA votes more than double as compared to the number of NOTA votes cast in the assembly elections of 2014.
In Worli, the number of NOTA votes are close to 5% of the total votes cast, a standout in the high-profile locality that saw Shiv Sena scion Aditya Thackery contest and win his first election.
It is also reported that across Mumbai, the number of NOTA votes increased 113% from the last assembly election.

Can NOTA Change Candidates' Fortunes? Some Examples
Fundamentally, NOTA provides a voter with the option to reject all candidates in the fray. Thus, NOTA can prove to be a spoilsport; with the ability to bite into candidates' winning margins.
This saw NOTA nearing, or even exceeding the margins by which some candidates won their seats. BJP candidates seem to have emerged victorious from these close fights, but they also include big names like Randeep Singh Surjewala from the Congress and Gopal Kanda from Haryana Lokhit party
In Maharashtra, ECI data shows that the BJP's 105 seats and its ally Shiv Sena's 56 seats takes it well over the majority mark of 146 seats required to govern the state. In Haryana, the BJP got 40 seats, short six seats of a majority of its own; with the party currently scouting for allies.
Do you always want to share the authentic news with your friends?
Subscribed Successfully...
Enter Valid Email Id