Photoshopped Pic Shows Rahul Gandhi's Name Misspelt
The viral post shows a photoshopped image of a campaign poster where the Congress president's surname is misspelt.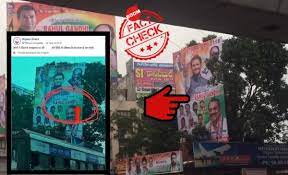 A hoarding with Congress President Rahul Gandhi's surname misspelt as an expletive in Hindi, is photoshopped.
The viral picture shows a poster where Gandhi has been misspelt as 'Gandu', along with photos of other prominent Congress leaders from Telangana.
A caption with the post translates to, 'Do they call Gandhi Gandu in Kerala? People of Wayanad understood in four days but the sycophants couldn't recognize him yet...you know, right, that Kerala has a literacy rate of 100 per cent. Look at the honor meted out Mister Rahul Gandu. This is not me but the poster says so.'
(Hindi translation: केरल में गांधी को GANDU कहते हैं क्या ??? वायनाड वाले इसको चार दिन में पहचान गए लेकिन चमचे इसको आज तक नही पहचान पाए....भाई केरल में 100% लिटरेसी है पता है ना आपको ....कितना मान सम्मान मिला है " SHRI RAHUL GANDU जी को" यह मैं नहीं कह रहा हूँ पोस्टर कह रहा है )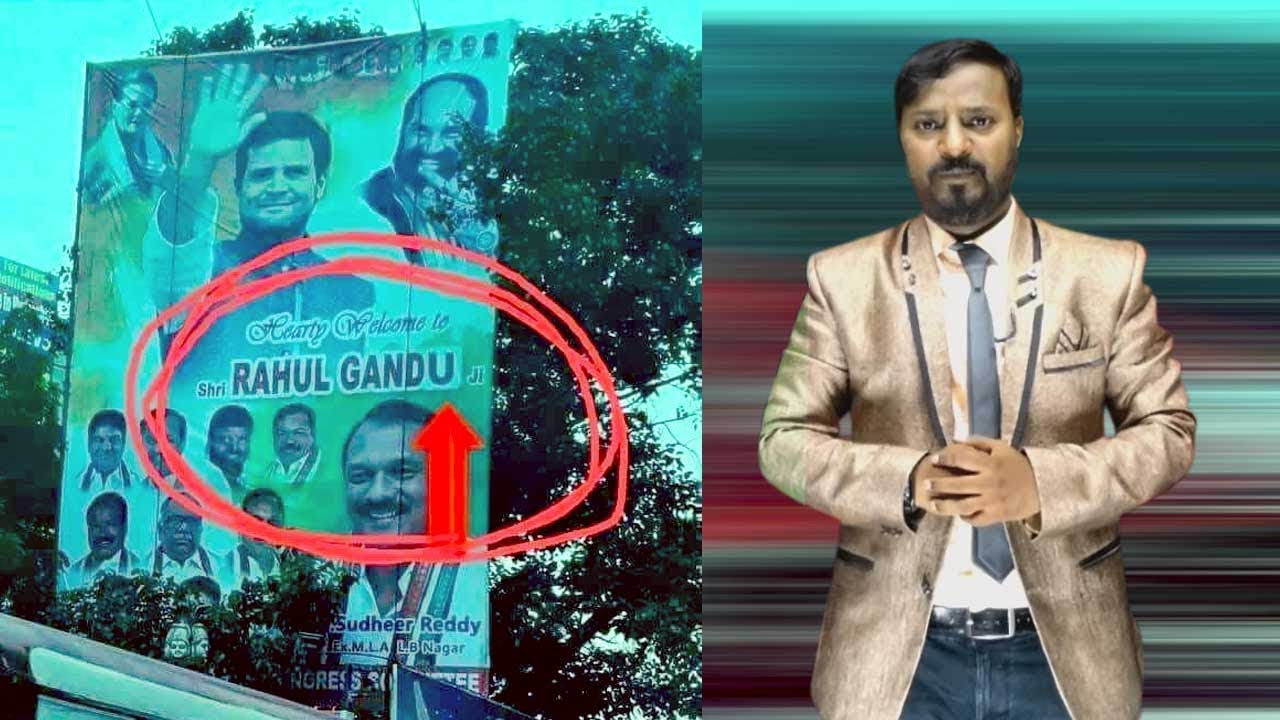 The post is also viral from several Twitter handles.
The archived version of the post can be seen here.
However, the claim in itself is an immediate giveaway to the authenticity of the post being doubtful. The the post suggests that this is a campaign poster in Kerala, but the photos on the poster are of prominent Congress leaders of Telangana.
While the upper right side of the poster has a photo of Telangana Pradesh Congress Committee's president N Uttam Kumar Reddy, the bottom right side has a photo of Congress leader D Sudheer Reddy.
This makes it clear that the poster is not from Kerala.
Fact Check
This is not the first time that the image has gone viral, in 2018, the same image was circulated on the internet with a different caption. However, the claim back then was that the poster was from Telangana.
BOOM found a video on YouTube by a channel called 'B News'. which had debunked the same fake post on August 22, 2018.
The video shows the original poster where the Congress president's name is spelt correctly. The hoarding is from Rangareddy district of Telangana as we can see 'Rangareddy District Congress Committee' written on another poster displayed nearby.
BOOM also found a video uploaded on the official Facebook page of Sudheer Reddy which shows the same poster, but with Gandhi's name spelled correctly. The video was uploaded on August 15, 2018. The caption with the video also talks about the morphed poster.
BOOM reached out to Sudheer Reddy, the story will be updated upon receiving a reply.
Claim Review :
Photo shows Rahul Gandhis name misspelled on a campaign poster in Wayanad
Claimed By :
Facebook posts