Photoshopped Image Of Priyanka Chaturvedi Sporting 'Namo Again' Surfaces
Chaturvedi's face has been superimposed on the body of Hemisha Thakkar, a municipal councilor in Vadodra, Gujarat.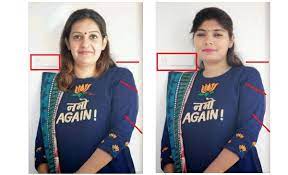 A photo purporting to show Priyanka Chaturvedi wearing a blue salwar kameez with the words 'Namo Again' written on it and the Bharatiya Janata Party's (BJP) symbol of a lotus, is photoshopped.
Barely hours after Chaturvedi, a former national spokesperson for the Indian National Congress, quit the party in a shock move on Friday, the photoshopped image surfaced on several right-wing Facebook pages and groups namely - 'WE SUPPORT NARENDRA MODI', 'BJP SOCIAL MEDIA', and 'I M with Indian Force.'
Although it appears that the image was created as satire it is now being shared on other Facebook pages as well. Some of the comments below the post indicate that several people believe the photo is real.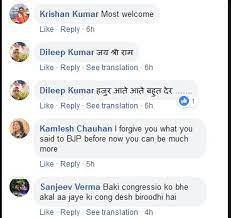 A prominent face of the party, Chaturvedi quit Congress to join the Shiv Sena over the weekend after being miffed that Congress party workers who had threatened and misbehaved with her at an event in Mathura a few days ago were reinstated into the party.
Deeply saddened that lumpen goons get prefence in @incindia over those who have given their sweat&blood. Having faced brickbats&abuse across board for the party but yet those who threatened me within the party getting away with not even a rap on their knuckles is unfortunate. https://t.co/CrVo1NAvz2

— Priyanka Chaturvedi (@priyankac19) April 17, 2019
FACT CHECK
BOOM ran a reverse image search on the fake photo and found a similar looking picture of one Hemisha Thakkar.

The fake image is a composite of two separate images. Chaturvedi's face has been superimposed on the body of Hemisha Thakkar, a municipal councilor in Vadodra, Gujarat.
लक्ष्य हमारा मोदी जी दोबारा 🌷@narendramodi @PMOIndia @BJP4India @BJP4Gujarat @AmitShah @jitu_vaghani @namomerchandise #NamoAgain pic.twitter.com/G7f9iNo7sR

— Chowkidar Hemisha Thakkar (@Hemisha_Bjp) March 5, 2019
In the photohsopped picture, a logo of 'Deep Parikh Photography' is faintly visible.
A side-by-side comparison show the similarities between the two images down to the creases on the left shoulder and arm.
Deep Parikh Photography's Facebook page also posted an image of Thakkar on March 30, 2019 wearing the same salwar kameez.
BOOM has also reached out to Priyanka Chaturvedi, the story will be updated upon receiving a reply.
Claim Review :
Photo shows Priyanka Chaturvedi wearing a Namo Again salwar kameez
Claimed By :
Facebook posts