Food
Passenger Finds Lizard In Veg Biryani Nearly A Week After CAG Slams Railway Food
A recap of why CAG audit found railway food unfit for human consumption.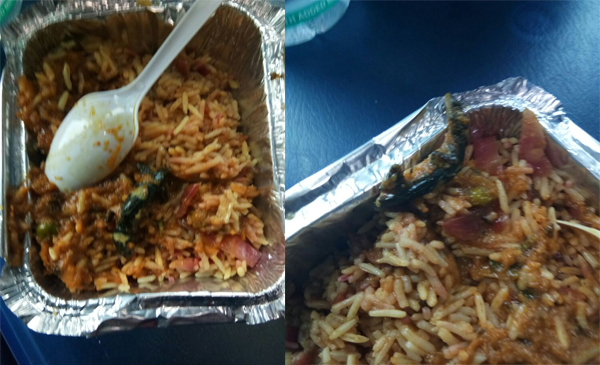 The Indian Railways continue to face scrutiny over food provided to its passengers on trains. A passenger onboard the Poorva Express, Santosh Singh found a lizard in his half eaten veg biryani. The matter was brought to the notice of the railway minister Suresh Prabhu by a co-passenger on twitter. Speaking to BOOM, Singh says that while the railway officials attended to his complaint, no medicines were made available to him till the train reached Patna railway station four hours later.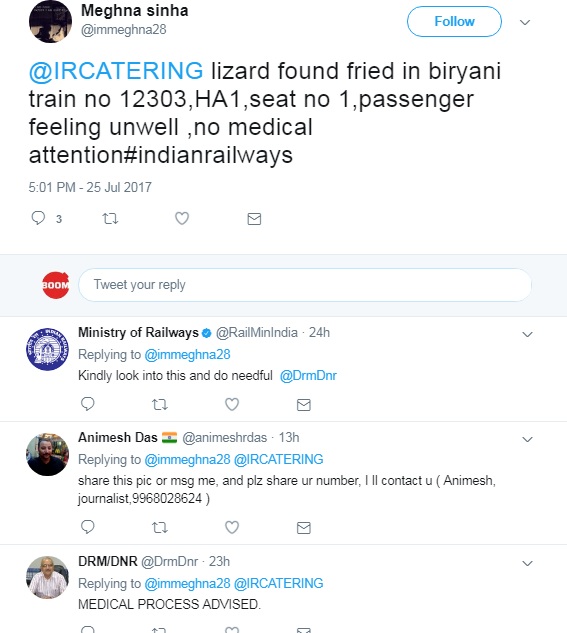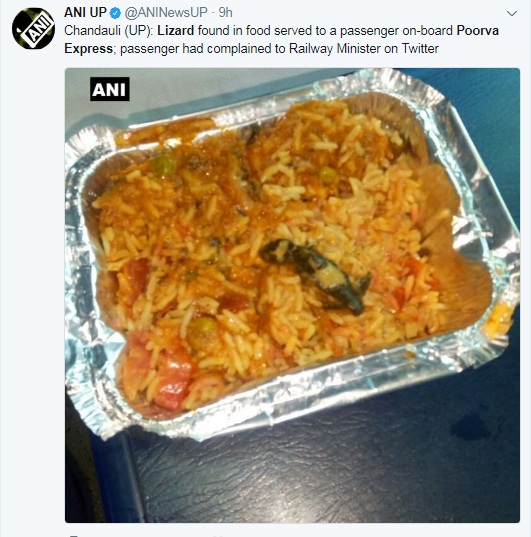 Singh, a lawyer practising at the Allahabad High Court now plans to file a public interest litigation (PIL) seeking an investigation into railway catering contracts. " The railway manager told me that the food was ordered from outside. There is no transparent policy to know how the food is sourced," said Singh.
This incident comes barely a week after Comptroller and Auditor General's (CAG) audit report on catering services in the Indian Railways found that food served on several routes were unfit for human consumption.
The CAG report also found mention in the Parliament today when Rashtriya Janata Dal (RJD) Leader Jai Prakash Narayan Yadav on Wednesday submitted an adjournment motion notice in the Lok Sabha, over the poor quality of food being served by the Indian Railways, reports The Outlook.
Here's a quick recap of what the CAG said about the poor state of catering services in Indian Railways.
What is the report about?
The CAG audit was conducted to assess the 'adequacy and availability of good quality and hygienic food to railway passenger at affordable rate' for the years between 2013-14 to 2015 -16.
What was the methodology followed?
The audit followed an all-round inspection of different catering units. The catering units included both static and mobile units - 'departmental catering units, contract catering units and IRCTC managed units of stations, base kitchens, pantry cars of trains and trains without pantry cars'.
In addition, a passenger satisfaction survey was conducted.
What was the sample size?
For a total of 7216 stations in India, 74 stations were selected representing the categories of A1, A and B to F stations.
For a total of 2558 trains, 80 trains were selected representing trains with catering services run by licensee and by departmental catering units.
The sample for the passenger satisfaction survey was 25 passengers each from the selected 74 stations and 25 passengers each on the 80 selected stations.
The stations and trains were representative of the 16 zonal railways in India. Please click here for information on Railway zones.
What were the specific observations made by the report on 'quality and hygiene' of rail food?
'Unpurified Water' - In many cases purified water was not available in stations and unpurified tap water was used for cooking purposes. Moreover, unapproved brands of packaged water were sold in stations.
'Food unsuitable for human consumption' – The audit reported a passenger to have found an iron nail in a cutlet, and selling of spoilt pethas in Agra and locally made biscuits and cakes (without expiry information). Train kitchens were found to have substandard atta, open and contaminated oil, 100 unsold parathas, malai paneer, chicken and oil of substandard quality.
Catering personnel were found to not have used hand gloves while handling food stuffs. Food items were kept open without being protected from contamination by flies, insects and dusts and were also found on the floor and outside toilets.
Cockroaches and rats were found in pantry cars of two Duronto trains.
The passenger satisfaction survey showed that 75% of the people surveyed rated railway catering services as either average or poor.
The number of complaints lodged by passengers regarding catering services between January 2013 to September 2016 stands at 419 for hygiene reasons and 8,792 for quality reasons. The audit report notes that though the redressal system is in place, the complaints have not decreased over time.
Do you always want to share the authentic news with your friends?
Subscribed Successfully...
Enter Valid Email Id