Parody Virat Kohli Twitter Account Endorses Indian Brands Only
The parody account had fans believing that Indian captain Virat Kohli was not going to support foreign brands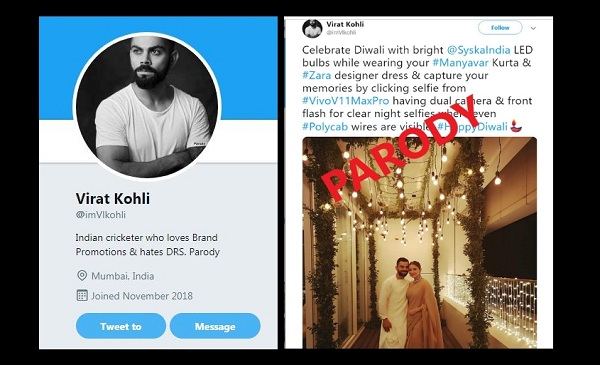 A parody Twitter account impersonating Virat Kohli has decided that the best way to respond to the cricketer's 'leave the country' comment, is through humour.
Tweets from the fake account @imVlkohli gained traction following the Indian skipper's recent comments in a video asking a fan to "leave the country" for liking English and Australian batsmen over Indian cricketers.
In a video that was meant to promote the newly launched Virat Kohli Official App, the cricketer lashed out at an unflattering tweet from a cricket fan that said he preferred watching Australian and English batsmen over their Indian counterparts.
Kohli's response to the tweet was, "Okay, I don't think you should live in India then... you should go and live somewhere else, no?. Why are you living in our country and loving other countries? I don't mind you not liking me but I don't think you should live in our country and like other things. Get your priorities right."
The video instead of promoting the app landed Kohli in a soup after fans criticised his reaction and also pointed out how he supports many international players across sports.
The parody account @imVlkohli created on November 3, 2018 was quickly racing towards gaining 2000 followers with just 32 tweets, at the time of writing this story.
The real Virat Kohli is followed by a whopping 27.1 million followers on Twitter.
While the fake account was earlier trolling the cricketer for frequently brand-name dropping, it changed tact after Kohli's recent comments.
On November 7, the fake account tweeted that it was discontinuing endorsing foreign brands and would only endorse Indian brands from now on.
I am discontinuing my brand endorsement contract with non indian brands with immediate effect. I will now endorse only Indian brands, hope the Indian fans too, will like and endorse Indian cricketers over English and Australian cricketers from now on. Thank you.

— Virat Kohli (@imVlkohli) November 7, 2018
The tweet received over 1700 likes and was retweeted more than 600 times. Many Twitter users believed it to be true with many hailing the decision and even suggesting Indian brands that Kohli could promote.
JE BAAT Hero...ekdam sahi...Proud of you...God Bless..@dsharma54 @Ashwini_Trpathi

— Rajeev Sinha (@RajeevSinha2408) November 8, 2018
Sir you can be a brand ambassador for Patanjali apparels.....great decision

— baba krishhn (@KrishhnBaba) November 7, 2018
On Diwali, the parody account once again tweeted using a photo of Kohli with actor and wife Anushka Sharma.
Celebrate Diwali with bright @SyskaIndia LED bulbs while wearing your #Manyavar Kurta & #Zara designer dress & capture your memories by clicking selfie from #VivoV11MaxPro having dual camera & front flash for clear night selfies where even #Polycab wires are visible. #HappyDiwali pic.twitter.com/ss737Ol56E

— Virat Kohli (@imVlkohli) November 7, 2018
Some of the replies to the tweet are below.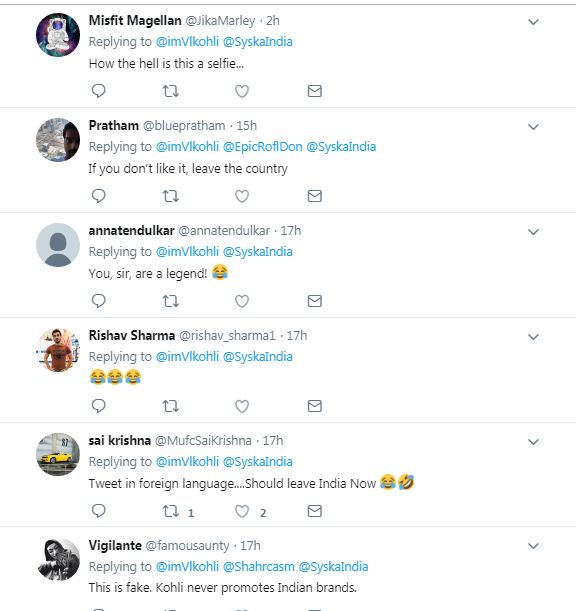 Virat Kohli's real account
The real Twitter account of the cricketer is @imVkohli while the fake account has an extra 'l' in the handle @imVlkohli. While the real account has a blue tick given only to verified accounts, the fake one does not.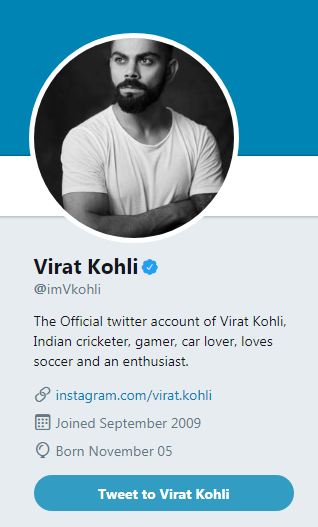 Virat Kohli's official Twitter account
Additionally, the bio of the real account reads, "The Official twitter account of Virat Kohli, Indian cricketer, gamer, car lover, loves soccer and an enthusiast."
The fake account states it is a parody account and says, "Indian cricketer who loves Brand Promotions & hates DRS. Parody"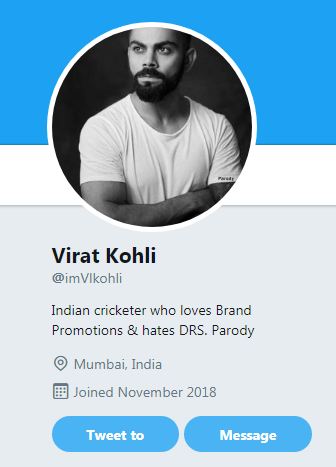 Parody account impersonating Viral Kohli
Claim Review :
Virat Kohli Discontinuing Endorsing Foreign Brands And Would Only Endorse Indian Brands
Claimed By :
Twitter User