Pakistani Website Spreads Fake News That F-16 Aircraft Manufacturer Plans To Sue India
Lockheed Martin India's verified Twitter account rubbished the claims saying the company had made no such statement.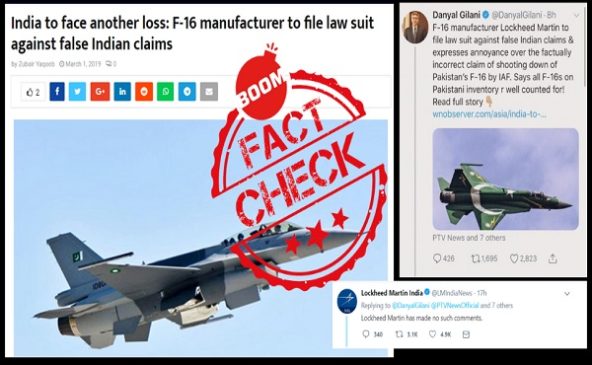 Pakistani website World News Observer's article claiming US defence equipment manufacturer Lockheed Martin plans to file a lawsuit against India for making "false claims" about downing a Pakistani F-16 fighter jet on February 27, 2019, is fake.
Lockheed Martin India's verified Twitter account rubbished the claims saying the company had made no such statement.
BOOM has written to Lockheed Martin seeking comment and will update this story upon receiving a reply.
Lockheed Martin India's tweet was in response to a tweet by Danyal Gilani, former press secretary to the prime minister of Pakistan. Gilani is currently serving as the chairman of the Central Film Censor Board in Pakistan.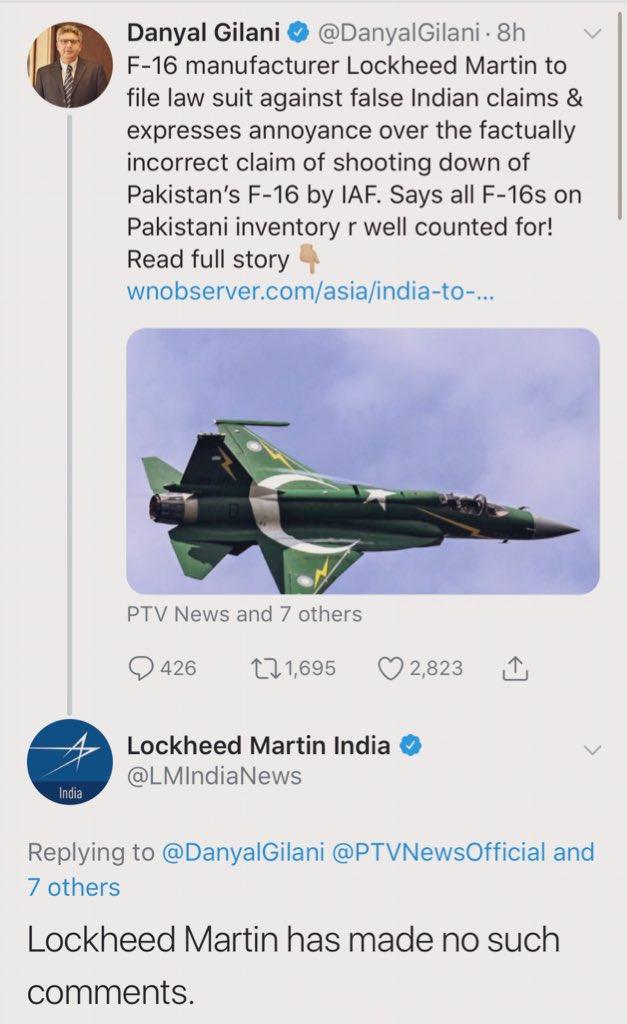 Following the reply Gilani deleted his original tweet and acknowledged the statement being wrongly attributed to Lockheed Martin.
However, he refused to budge from his stand regarding the Government of India's 'failure to prove' that it downed an F-16 of PAF.
The article by World News Observer (WN Observer ) titled 'India to face another loss: F-16 manufacturer to file law suit against false Indian claims' fabricated a series of claims that Lockheed Martin had 'expressed its annoyance over the factually incorrect statement by Indian Foreign Office spokesperson regarding alleged shooting down Pakistan's F-16 by IAF on February 27, 2019. '
The story authored by one Zubair Yaqoob claimed Lockheed Martin claimed all F-16s Pakistani inventory were well counted for and that the story was "concocted for political gains" by the Indian government at the cost of the reputation of the F-16s fighter jets globally.
The archived link of the article can be viewed here.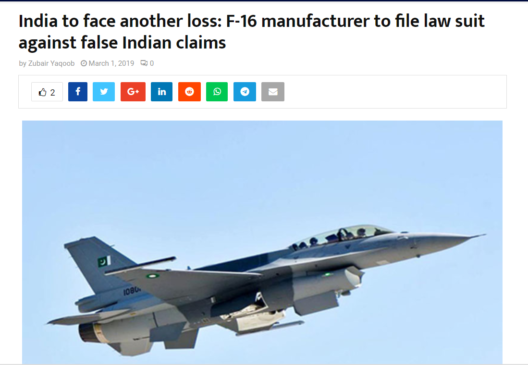 WN Observer had earlier spread fake news claiming Western Command Air Marshal Chandrashekharan Hari Kumar was sacked when in fact he retired on March 1, 2019 after a distinguished career spanning over 39 years.
WN Observer claims to be a news media platform and was founded in 2018, according to its Facebook page.
Pakistan and India are in a war of words regarding the reported downing of an F-16 jet of PAF. While Pakistan has vehemently denied such claims by its neighbour, India, however, in a press conference on February 28, produced remains of AMRAAM missile found in F-16 jets.