Old Video From Gujarat Showing Muslim Migrants Intimidated And Forced To Say 'Jai Shri Ram' Resurfaces
BOOM reached out to Surat Police who confirmed that the video is nearly three years old and the accused had been arrested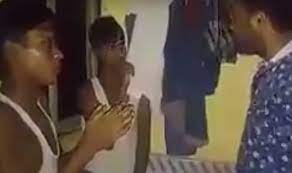 A disturbing video showing two migrant workers being intimidated and forced to chant 'Jai Shri Ram' in Surat, Gujarat has resurfaced on social media with no context that the video is nearly three years old.
The one minute long video shows one Amit Singh Rathore assault two men as he forces them to use expletives against Islam and chant 'Jai Shri Ram'. Another person recording the assault can be heard in the background.
The video, which is viral on Twitter, has been viewed more than 2300 times at the time of writing this article.
BOOM has chosen not to include the same in the story.
The archived link of the tweet can be accessed here.
Fact Check
BOOM broke the video into key frames and performed a reverse image search.
We were directed to a website 5pillarsuk.com which used a screenshot of the video, along with the headline, 'Two Muslim teens beaten and forced to praise Hindu gods by extremist'. The article was from August, 2016.
We then ran a keyword search on the internet with "Teenagers beaten and Gujarat" and were directed to a August 30, 2016 news report by The Indian Express, which mentioned protests by the Muslim community over the delay in arrest of the accused.
The Indian Express reported, "Tension gripped Limbayat area of Surat early on Monday, when a video showed a man abusing two young migrant workers from Bihar, reportedly of zardozi units. The workers were seen being forced to vacate a rented quarter in Godadara area by a man who identified himself as Amit Singh Rathore. He abused them and forced them to strip. The youths were also being beaten up by other youths, along with Rathore. Rathore has been arrested."
BOOM reached out to the Limbayat Police Station in Surat, who confirmed the incident and the video associated with it. Mahendra Sinh Solanki, sub-inspector, said, "the incident happened in 2016, when Amit Singh Rathore had beaten up two Muslim workers and forced them to use abuses against their religion. The same video was viral then, agitating the local Muslims, who demanded stern action against the culprits. Rathore was arrested on several charges," Solanki said.
Same video viral in Moradabad in 2016
The same video was viral in Moradabad, Uttar Pradesh, later that month.
Claim Review :
Video of Hindu man forcing two Muslims to chant Jai Shri Ram
Claimed By :
Twitter User