Old Video Of Akhilesh Yadav's Arrest Passed Off As Protest Against Repealing Article 370
A viral post claims UP police arrested Yadav from a protest rally against repealing of Article 370. BOOM found that the video is from 2011 and has nothing to do with Kashmir
An eight year old video of Samajwadi Party leader Akhilesh Yadav being arrested by Uttar Pradesh police has resurfaced with a false claim.
The video, showing police officials roughing up Yadav before shoving him in a vehicle, has been shared on multiple Facebook pages.
"Tipu (read Akhilesh Yadav) was dragged to the police station from a protest rally against Article 370 today. After Modi and Amit Shah, Yogi's police in action," reads the claim with the viral video on Facebook.
(Hindi: घसीटते हुए टीपू को थाना ले जाया गया।।370 के खिलाफ हो रहा था प्रदर्शन।।
मोदी,अमित शाह के बाद योगीजी और उनकी पुलिस एक्शन में,धक्के मुक्के ओर इज्जत के साथ उठवाया अखिलेश को |)
You can watch the video below and access its archived version here.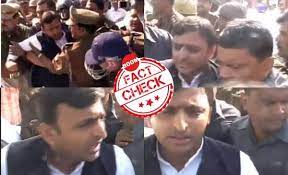 Fact Check
A simple reverse image search on a frame from the viral clip led BOOM to the original video which is eight years old. Watch it below.
The video is from March 2011 when Mayawati of Bahujan Samaj Party was at helm of affairs in Uttar Pradesh.
Akhilesh was arrested from the Lucknow airport on March 9 for giving a call for a three-day long protest against the BSP. Following this, BSP supremo Mayawati had ordered a crackdown on SP protesters across the state. Police, on their part, had claimed that Yadav had been arrested as a preventive measure.
The political turmoil was covered widely by the media back then. You can read reports on the same here and here.
Claim Review :
Police arrest Samajwadi Party chief Akhilesh Yadav from a protest rally against Article 370
Claimed By :
Facebook pages