Old Political Cartoon Targeting The BJP Not Created By American Cartoonist
BOOM got in touch with US-based cartoonist Ben Garrison, who clarified that the cartoon is not his creation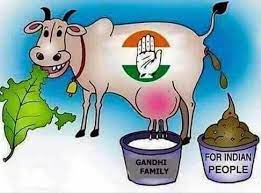 A morphed cartoon by Assam-based political cartoonist Amal Medhi has been falsely credited to American political cartoonist Ben Garrison. The cartoon has resurfaced on social media with a narrative of a situation prevalent in India, where the benefits of the nation are enjoyed only by the ones who support the ruling party of the country.
In the cartoon, a cow, which is identified as the Bharatiya Janata Party (BJP) is seen eating a leaf, symbolising the Indian map. Meanwhile his excreta is seen collected in a container that symbolises the Indian people, while the milk drops in a bowl, which represents Narendra Modi-led BJP and his party members. A text accompanies the cartoon which says, "Amazing cartoon by American cartoonist Ben Garrison... Showing the situation."
You can view the post below and its archived version here.
Fact Check
BOOM got in touch with the American cartoonist Ben Garrison who denied having created any such cartoon. Garrison's team clarified to BOOM, "This is not a Ben Garrison cartoon and not even close to Ben's art style. All of Ben's cartoons are at grrrgraphics.com and if you do not see that cartoon there, you know it is fake."
In fact, the cartoonist's official Twitter handle had earlier replied to a tweet indicating that the cartoon has been wrongly credited to him.
No- I have never drawn any cartoons on India politics- there are some cartoons with my sig going around- Not mine

— GrrrGraphics Cartoons (@GrrrGraphics) October 22, 2017
BOOM also ran a reverse image search and was directed to a Facebook page by Amal Medhi, who is the creator of the cartoon. We reached out to Medhi, who wasn't surprised that his cartoon, Make In India is doing the rounds again. He said, "I know it is my Make In India Cartoon that has been photoshopped several times by several political parties to suit a campaign. It was a cartoon that I made and posted on Facebook four years ago. I did not share it with any newspaper. Neither did I use it for any magazine," Medhi clarified.
The original cartoon can be viewed below.
Though Medhi has not filed any complaint for copyright infringement, he says he is "exhausted" due to the repeated duplication of his creation.
Cartoon Photoshopped Earlier
The Make In India Cartoon had earlier been used to depict a similar situation, but targeting the Congress – where the Gandhi family symbolised the pot which received the milk and the common people was represented by the container that collected the waste of the cow.
Claim Review :
Amazing Cartoon By American Cartoonist Ben Garrison
Claimed By :
Facebook User