Old Pic Of Iraqi Fighters Pictured In Front Of An ISIS Flag Passed Off As Missing JNU Student Najeeb
JNU student Najeeb Ahmed went missing on October 15, 2016, more than a year after this image was published.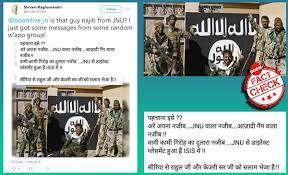 A 2015 picture of a group of Iraqi fighters pictured in front of an ISIS flag after wrestling back control of a town from the terrorist organisation is being passed off as a picture of the missing Jawaharlal Nehru University (JNU) student Najeeb Ahmed.
The caption of the viral image reads, "Can you recognize him? He is JNU comrade Najeeb, who has been placed in the terror group ISIS,"
(Translated from Hindi text "पहचाना इसे?? अरे अपना नजीब जेएनयू वाला नजीब... आजादी गैंग वाले नजीब!! वामी कामी गिरोह का दुलारा नजीब... JNU से डॉक्टरेट, प्लेसमेंट हुआ है आईएसआईएस में, सीरियस से राहुल जी और केजरी सर जी को सलाम भेजा है!")
BOOM received this viral image on its WhatsApp helpline (7700960111) message inquiring about it.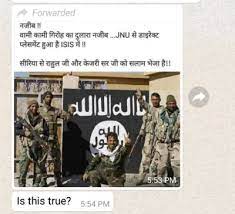 FACT-CHECK
BOOM ran a reverse image search through Yandex, a Russian search engine which threw up search results that the photograph is originally from Iraq taken by Thaier Al-Sudani for wire agency Reuters on March 7, 2015.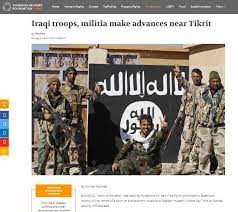 The caption to the photo reads, "Shiite fighters stands near a wall painted with the black flag commonly used by Islamic State militants in the town of Tal Ksaiba, near the town of al-Alam, Iraq, March 7, 2015."
According to the article, Iraqi security forces and Shi'ite militia fought the Islamic State (ISIS) and had taken control of the centre of a town on the southern outskirts of Saddam Hussein's home city Tikrit in Iraq. (Read more here)
Disappearance of Najeeb
Najeeb Ahmed was a first-year MSC Biotechnology student in JNU, who went missing on October 15, 2016, more than a year after this image was published.
The Times of India (TOI) had misreported in a front-page story on March 21, 2017, about Najeeb's 'affinity towards the ISIS' through information about the websites he had accessed the day before he went missing which was based on sources from Delhi Police who had allegedly accessed such browsing data.
The newspaper later removed the article and later issued a clarification after journalists from other media houses tried to cross check TOI's story prompting the Delhi Police to deny having provided information to the newspaper.. (Read more here)
Najeeb's mother Fatima Nafees had filed a defamation suit seeking damages of Rs 2.2 crore in the Delhi High Court against various media outlets including TOI for linking Najeeb to ISIS. (Read more here)
The Central Bureau of Investigation filed a closure report and ended their search after failing to trace the student in October 2016. (Read more here)
The Delhi High Court on October 11, 2018, had asked some media houses to retract certain news articles and videos which allegedly linked Najeeb to ISIS. (Read more here)