Old Image Of Sundar Pichai Passed Off As Him Coming To India To Vote
This viral image of him on Twitter was actually of his visit to his alma mater in 2017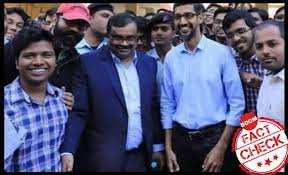 An image of Google CEO Sundar Pichai's 2017 visit to IIT-Kharagpur has gone viral with the claim that he came down to India to cast his vote.
These images were tweeted by many users on Twitter, and more prominently TV9 Gujarati.
An archived version of this tweet can be found here.
FactCheck

This image was tweeted by Pichai in 2017 when he visited the campus of IIT Kharagpur, his alma mater, from where he graduated as an engineer.
Pichai had tweeted on January 7, 2017, about his visit to IIT Kharagpur.
More accurately, this was the image they were referring to.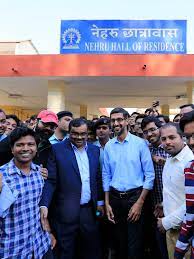 Pichai Is Not Indian
Pichai is a US citizen.
He came to the US as a student,got an H1-B visa, then a Green Card eventually leading to citizenship.
This has been reported by NDTV, in the context of a hearing of Pichai before the US Congress in December 2018. A certain Congresswoman Jayapal, who posed questions before him, had followed the same immigration pathway as taken by Pichai.
By virtue of him being a US citizen, he cannot vote in India
Claim Review :
Sundar Pichai Is voting in Tamil Nadu
Claimed By :
TV9 Gujarati and other Twitter users