No, This Photo Was Not Taken At The Home Of A Pulwama Martyr
On February 20, 2019, Rahul and Priyanka Gandhi went to meet the family members of CRPF martyrs of the Pulwama terror attacks. They made an impromptu stop at a dhaba while returning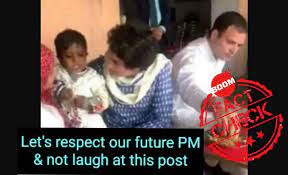 An image of Congress President Rahul Gandhi reaching out to a plate of food as Congress General Secretary Priyanka Gandhi Vadra speaks animatedly to little boy at a dhaba in Uttar Pradesh, is viral with false claims on Facebook.
The text of the viral photo implies that Gandhi ate the child's share of food while the two siblings had purportedly gone to meet the family of a jawan killed in February 14, 2019 Pulwama terror attack in Jammu and Kashmir.
The image has been captioned as, "He ate up the kid's snacks at a martyr's home. How will he manage the country?"
The post can be viewed below and its archived version here.
Fact Check
BOOM ran a keyword search with 'Rahul Gandhi and Priyanka Gandhi eating in a hotel.' Multiple photos of the Gandhi siblings eating at a dhaba in Uttar Pradesh matched the same image which has been used in the post.
On February 20, 2019, Rahul and Priyanka Gandhi went to meet the family members of CRPF jawan Pradeep Kumar and Amit Kumar Kori, martyrs of the Pulwama terror attack.
While returning, their convoy made an impromptu stop at a roadside dhaba in Shamli for an evening snack.
They were accompanied by senior Congress leaders of Uttar Pradesh Raj Babbar and Jyotiraditya Scindia. A video from the dhaba can be accessed below.
Claim Review :
Rahul Gandhi ate from a kids plate in martyrs home
Claimed By :
FACEBOOK POSTS