No, This Is Not Wing Commander Abhinandan Varthaman's Mother
Images showing an old woman get teary eyed watching Imran Khan on television is being shared claiming she is IAF Wing Commander Abhinandan Varthaman's mother.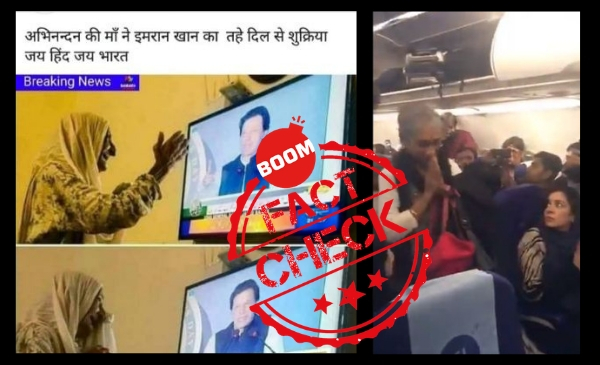 Two photographs showing an aged woman weep at television screen with images of Pakistan's Prime Minister Imran Khan is being shared on social media with a false narrative that the woman is the mother of Indian Air Force Wing Commander Abhinandan Varthaman.
The images started doing the rounds of social media on February 28, 2019 when Imran Khan announced that the IAF pilot in Pakistan's custody would be released as a gesture of peace.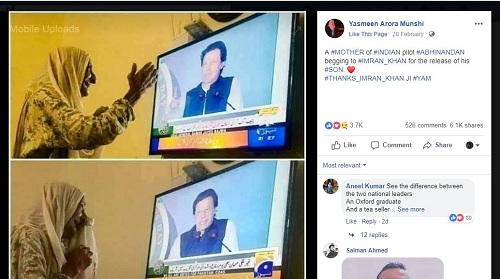 (Click here to view an archived link of the post)
The same photos were also shared with text in Hindi that translates to 'Abhinandan's mother thanked Imran Khan from the bottom of her heart. Jai Hind Bharat' Click here to view the archived version of the post.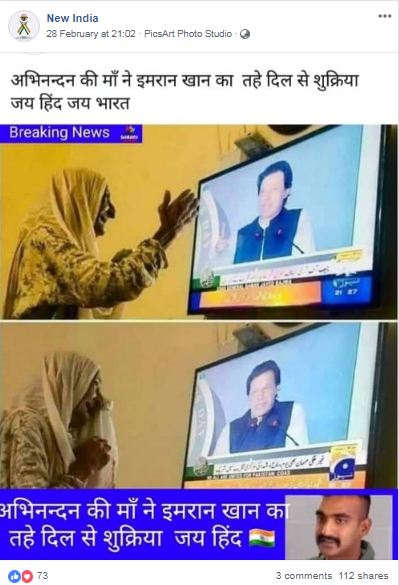 The images made their way to Twitter as well.
Emotions Of Indian Pilot Abhinandan's Mother, after
Imran Khan Released ❤️ #WelcomeBackAbhinandan
Thank you @ImranKhanPTI @asadowaisi pic.twitter.com/vgVuWUqdKX

— §umaya khan❤ (@pathan_sumaya) February 28, 2019
FACT-CHECK
A day after Imran Khan announced in Pakistan's parliament that Abhinandan would be released, his parents retired Air Marshal S Varthaman and Dr. Shobha Varthaman boarded an Indigo flight from Chennai to Delhi .
Passengers on the same flight on learning their identity began to applaud and made way for them as the couple exited the flight. A video capturing the moment has since gone viral on social media.
In the video, a visibly overwhelmed Dr. Shobha Varthaman Abhinandan's mother can be seen acknowledge the applause.
A pilot friend sent a better version. #WelcomeHomeAbhinandan. 👏 pic.twitter.com/tj0U2z4jMh

— Tarun Shukla (@shukla_tarun) March 1, 2019
From the video it is clear that the woman in the viral photographs is not Dr. Shobha Varthaman.
Several news outlets have since then reported on Dr. Shobha Varthaman who has worked with Doctors Without Borders in war-ravaged countries.
A pilot friend sent a better version. #WelcomeHomeAbhinandan. 👏 pic.twitter.com/tj0U2z4jMh

— Tarun Shukla (@shukla_tarun) March 1, 2019
#IndiasHeroReturns | Wing Commander #Abhinandan's mother is no less of a hero who has dedicated her life to the greater good. A part of Doctors without Borders, she served in various conflict zones.

Here is Dr #ShobhaVarthaman's story pic.twitter.com/2tCBRk7wvE

— Mirror Now (@MirrorNow) March 2, 2019
BOOM analysed the photographs and found that the channel logo visible in the photo is that of Pakistan's GeoTV. The ticker in Urdu loosely translates to 'Muslims from other countries attended the event'
We also ran a reverse image search on the viral photo and found instances of the photo being uploaded by Pakistani nationals in 2018.
The tweet in Urdu translates to, "When you have the blessings of such mothers, nobody can harm you. Imran Khan zindabad."
جب ایسی ماؤں کی دعائیں ساتھ ہوں
تو خان کا کوئی کچھ نہیں بگاڑ سکتا

عمـــــــــــــران خان زندہ باد pic.twitter.com/enBKe9gxll

— Mustajab Baloch (@MustajabBaloch) November 19, 2018
Claim Review :
Photos show IAF pilot Abhinandan Varthamans mother
Claimed By :
Facebook posts