No, Suicide Bomber's Belt Did Not Explode During His Funeral Procession
BOOM found that the video was shot when a car bomb exploded during a funeral procession in Syria in 2012.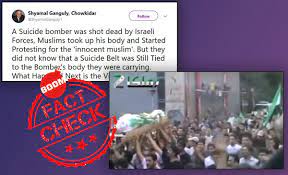 A disturbing footage of a 2012 bombing during a funeral procession in Syria has been revived with a misleading claim that the deceased was a suicide bomber and the explosion was caused by the bomb still tied to his body. BOOM found that the bombing happened from a car bomb exploding during the funeral of a Syrian national, allegedly gunned down by government troops.
On June 14, 2019, Twitter user 'Shyamal Ganguly, Chowkidar' (@ShyamalGanguly1), tweeted the disturbing video with the caption, "A suicide bomber was shot dead by Israeli forces, Muslims took up his body and started protesting for the 'innocent Muslim'. But they did not know that a suicide belt was still tied to the bomber's body they were carrying. What happened next is the video."
Keeping in mind the graphic nature of the video, BOOM is not including it in the story.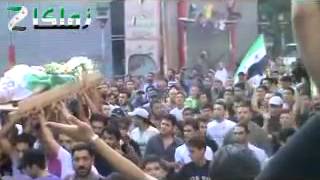 A quick search on Facebook with the same caption led us to several posts which had shared the video.
Fact Check
BOOM ran a Google reverse image search with keyframes from the video, which led us to a similar video uploaded on YouTube channel Syrian Observatory of Human Rights with the caption "ريف دمشق زملكا لحظة تفجير موكب التشييع 30 6 2012", which translates to "At Damascus countryside, during a funeral procession 30/6/2013".
While the YouTube video was shorter in duration than the viral video, it was from the same funeral procession.
A Google search with the keywords "Damascus funeral bombing" showed results by various international media outlets. A 2012 New York Times story carried the above YouTube video describing the incident as "Fighting has flared in the suburbs of Damascus, including in the restive town of Zamalka, where antigovernment activists said a videographer taped the funeral procession on Saturday of a man, Abdul Hadi al-Halabi, who was killed the day before. "
A June 30, 2012 reported by the LATimes said, "The car bomb went off as the procession passed a mosque. Hazy video clouded by dust in the first moments after the explosion showed dozens of mangled bodies lying on the road and the stretcher carrying Halabi's body on the ground nearby. "
CNN also reported on the tragic event as, "In what opposition activists say was a government-organized car bombing, 85 people were killed and more than 300 people were wounded, most of them in critical condition."
Claim Review :
Video shows bomb going of during a funeral of a suicide bomber slain by Israeli forces.
Claimed By :
Facebook, Twitter