No, Russian President Vladimir Putin Is Not Attending Jallikattu Festival
OpIndia and MyNation missreported that Russian President Vladimir Putin and Narendra Modi would visit Tamil Nadu in 2020.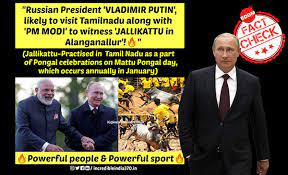 A false claim that Russian President Vladimir Putin would visit Tamil Nadu next year with Prime Minister Narendra Modi to witness the popular bull taming sport Jallikattu is viral on social media.
The claim was reported by several websites like One India Tamil, OpIndia and My India and shared on Facebook and Twitter.
Viral on Twitter
Russian President Vladimir Putin is to witness bull taming bravery #Jallikkattu on January 11 ,2020 in #TamilNadu. @narendramodi @PMOIndia will join. A diplomatic coup. Certainly major boost for Tamil culture. Close to Xi #xijinpinginchennai #Putin visit is crown for Tamil pride. pic.twitter.com/Xv9uYRD9nS

— R. RAJAGOPALAN (@RAJAGOPALAN1951) October 29, 2019
Click here to view and here for an archive
Modi is putting tamil nadu and it's culture on the world stage
Wonder what some idiot tamilians who hate him will do now #TamilNadu #Jallikattu #NarendraModi #Putin pic.twitter.com/6Gh72J11ku

— The Communal Dentist©🇮🇳 (@dr_bharathsn) October 29, 2019
Click here to view, and here for an archive.
Media Misreports
Right leaning news website OpIndia citing a One India Tamil report initially reported, "Putin may attend the bull-taming festival, Jallikattu, in Madurai, Tamil Nadu in January 2020."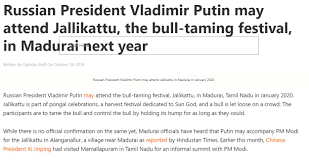 However it later changed the headline and updated the story stating, "News has now emerged that media reports of Russian President Vladimir Putin attenting Jallikattu in Madurai along with Prime Minister Modi are false. No such event has been organised."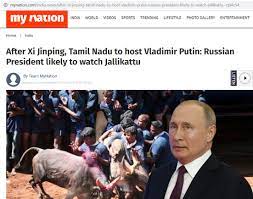 MyNation also missreported and said "Tamil Nadu is all ready to host Vladimir Putin, the Russian president. If reports are to be believed, he will be in Tamil Nadu in January 2020."
FACT-CHECK
Press Information Bureau (PIB) Gujarat took to Twitter to dismiss any reports that Modi and Putin would attend Jallikattu in Madurai in January, 2020, calling the reports, "fake news".
Wire news agency ANI also clarified that no such program had been scheduled.
Jallikattu is part of the three-day Pongal festival and derives its name from Tamil words 'salli' meaning coins and 'kattu' meaning package which refers to the bag of coins which is tied to the bull's horns and the participants try to get hold of.
The Supreme Court had banned Jallikattu in 2016 after a plea by animal rights groups, which the government later issued an executive order to overturn the court verdict.
BOOM contacted the Prime Minister's Office (PMO) and Ministry of External Affairs (MEA), the article will be updated when we receive a reply.
Updated On:
2019-11-14T18:49:47+05:30
Claim Review :
Putin Along With Modi To Witness Jallikattu In Tamil Nadu