No, Police Did Not Lathicharge Congress Workers For Saying 'Pakistan Zindabad'
An old video of a police crackdown on Congress workers in Chhattisgarh gets a Pakistani twist.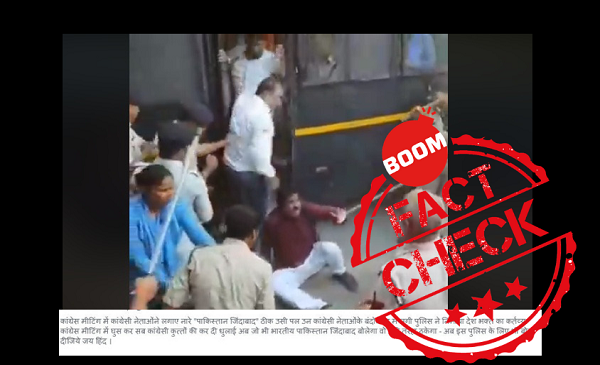 A video showing police personnel lathicharge Indian National Congress (Congress) workers in Bilaspur, Chhattisgarh in September last year is going viral on Facebook as Congress workers beaten up for chanting 'Pakistan zindabad' at a protest.
The 29 second clip which shows police rain down blows on Congress workers as they are herded into a police van, is being shared by multiple Facebook users.
The post of the misleading text claims that Congress workers chanted 'Pakistan zindabad' at a meeting. However, at the very same time police who were deputed to watch over the protests intervened and carried out their national duty by thrashing the party workers, the post claims.
(Hindi text - कांग्रेस मीटिंग में कांग्रेसी नेताओंने लगाए नारे "पाकिस्तान जिंदाबाद" ठीक उसी पल उन कांग्रेसी नेताओंके बंदोबस्त में लगी पुलिस ने निभाया देश भक्त का कर्तव्य कांग्रेस मीटिंग में घुस कर सब कांग्रेसी कुत्तों की कर दी धुलाई अब जो भी भारतीय पाकिस्तान जिंदाबाद बोलेगा वो इसी तरहा ठुकेगा - अब इस पुलिस के लिए भी बोल दीजिये जय हिंद ।)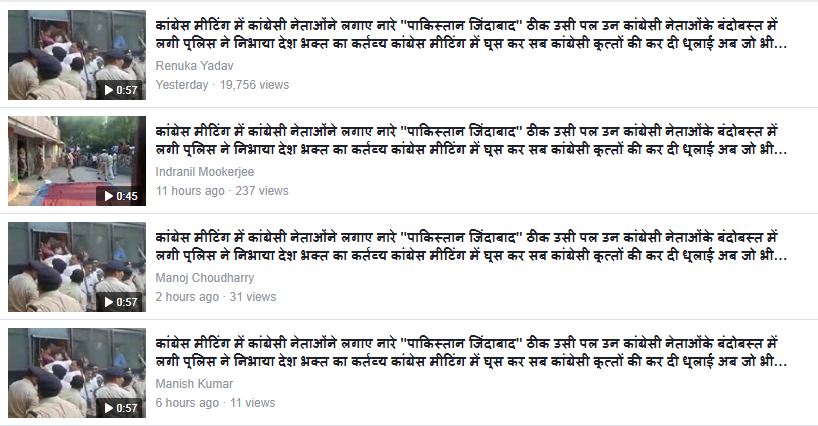 FACT CHECK
BOOM broke up the video into key frames and did reverse image search. The search showed that the video was from a police crackdown of a protest by Congress workers in Chhattisgarh on September 18, 2018.
52 party workers were arrested while seven suffered injuries according to a Press Trust of India report.
Congress President Rahul Gandhi had also tweeted the video criticising then Chhattisgarh Chief Minister Raman Singh.
नरेंद्र मोदी की हुकूमत में तानाशाही एक पेशा बन गया है| बिलासपुर में रमन सिंह की सरकार द्वारा कांग्रेस कार्यकर्ताओं के मौलिक अधिकारों पर बुज़दिली से किए गए इस प्रहार को वहाँ की जनता सियासी ज़ुल्म के रूप में याद रखेगी| pic.twitter.com/to7LDkXzEt

— Rahul Gandhi (@RahulGandhi) September 19, 2018
We also found several news reports including those by The Indian Express, The Hindu ,India Today and Press Trust of India.
None of the news reports have any mention of Congress workers shouting 'Pakistan zindabad' as the reason for the crackdown.
According to news reports Congress workers were protesting against the remarks of industries minister Amar Agrawal where he allegedly referred to the party as "kachra" or garbage.

Chhattisgarh Police in Bilaspur hitting Congress workers with lathis. Police officials say that they were being arrested after they had broken barricades and scuffled with police during a protest. Man in the red kurta is party general secretary atul srivastav @IndianExpress pic.twitter.com/fMXCDNLkCz

— Dipankar Ghose (@dipankarghose31) September 18, 2018
It is not clear what specifically triggered the crackdown by police. Indian Express citing a senior police official said Congress workers had broken through the barricades and scuffled with policemen.
Meanwhile PTI reported the following.
"Additional Superintendent of Police (ASP) Neeraj Chandrakar claimed that Congress workers threw garbage inside the minister's house and also manhandled a policewoman and some male constables, following which a case was registered against them.
The protesters then went to the district Congressoffice and staged a sit-in, the police officer said.
When police tried to arrest them, Congress workers again got into scuffles with police, so "mild force" was used to arrest the workers against whom the case had been lodged, Chandrakar said."
Claim Review :
Congress workers beaten up by police for shouting Pakistan zindabad
Claimed By :
Facebook posts