No, Plaque With Gibberish Tamil Text At The Statue Of Unity Is Not Fake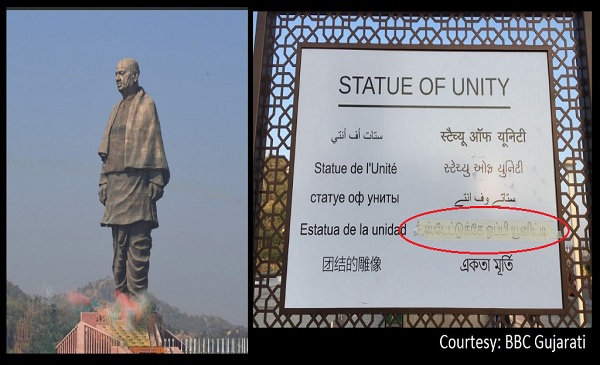 Viral photographs of a plaque at the 'Statue of Unity' memorial showing a gibberish translation of the words 'Statue of Unity' in Tamil, are not fake. BOOM was able to verify that a similar image of the plaque was shot by a BBC Gujarati journalist.
Two photos that went viral on Twitter a day before the inauguration were deemed fake by netizens after the Indian Express wrote a story citing an unnamed official who called the images fake. ('Officials say image of signboard with wrong Tamil translation of 'Statue of Unity' is fake')
A picture of the plaque showing 'Statue of Unity' written in several languages including French, Spanish and Indian languages such as Hindi, Tamil, Bengali caused a stir online on the eve of the inauguration.
Many on Twitter pointed out that the words 'Statue of Unity' was misspelled in Tamil and that the script did not make sense.
Tamil translation of 'Statue of Unity' turns to be Gibberish. Even the Google translation would have helped a great deal in this. #StatueOfUnity pic.twitter.com/F7X2wOKVZQ

— Aananth Daksnamurthy (@aananth95) October 30, 2018
Some used Google Translate as proof to show that the Tamil text was wrong. Another Twitter user pointed out the gaffe was a result of transliterating the words which results in 'Staettukke Oppi Unity' and has no meaning in Tamil.
#ஸ்டேட்டுக்கேஒப்பியூனிட்டி Google Translate Is Much More Better Than Central Govt Translators pic.twitter.com/tdQrUufTZt

— Sattar Shaikh (@shaikhsattar113) October 31, 2018
Meanwhile the Indian Express in its story on October 31 said, 'a top official from the Sardar Sarovar Narmada Nigam said that the picture of the signboard featuring the Tamil text was fake. They said no such signage was present at the site or had been pulled down.'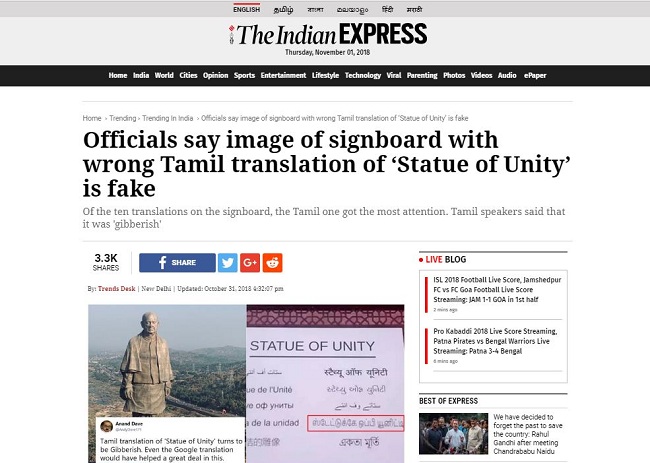 The same story was later updated with additional quotes from the unnamed source. "The viral image of the erroneous Tamil translation of the Statue of Unity is a mischievous attempt by someone to tarnish the event that is a grand tribute to Sardar Vallabhbhai Patel. The actual signboard is that of the statue with its logo, stating that is a government of India project," the official said."
Webqoof, the fact-checkin desk of The Quint, citing Indian Express's story published their own story with a different headline, 'Photo With Wrong Tamil Translation of 'Statue of Unity' Is Fake'.
The Quint later changed its headline to 'Statue of Unity Signboard With Wrong Tamil Translation Removed' but did not provide any explanation for the change of headline.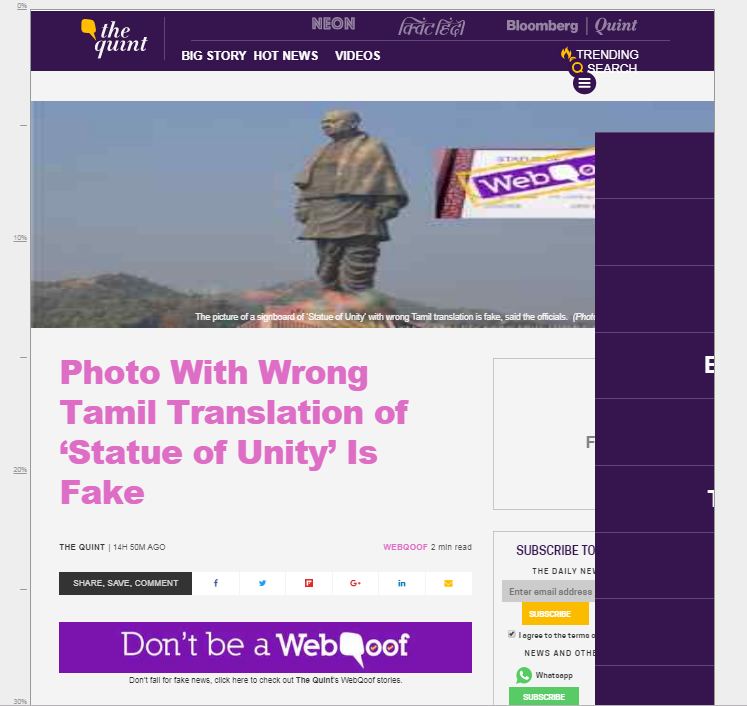 Indian Express's article prompted many on Twitter to call the photos fake.
So it turns out that news about the image of signboard had wrong Tamil translation of 'Statue of Unity' is absolutely fake. As always few Poralis working in tandem Kerala Abrahamic-commie journos operating in TN spread this canard https://t.co/OpLZKKeVhw

— Prasanna Viswanathan (@prasannavishy) November 1, 2018
There is no such board at the official ceremony of #StatueOfUnity. This one being circulated is fake one. Verify before posting, dont add to spreading fake news and creating feeling of hatred .

BJP supports , protects regional language . https://t.co/gvcKCPbeKy

— नमो दोबारा (@NaMoDobara) October 31, 2018
Sign board of #StatueOfUnity name in various languages itself is fake. The entire board itself was a photoshop work by Tamil fringe social media groups. Is this not enough to understand that some groups in TN are desperate to malign the name of Modi govt?https://t.co/1gO8VwNdCs

— Saiganesh (@im_saiganesh) November 1, 2018
Interestingly, while the authenticity of the images were being debated online; a few Twitter users pointed out that Gujarat Chief Minister Vijay Rupani also tweeted the old photo of the plaque with construction workers in the background.
The old photo is part of a series of photos shared by Rupani from his official handle CMO Gujarat. The tweet was later deleted. See an archived version here.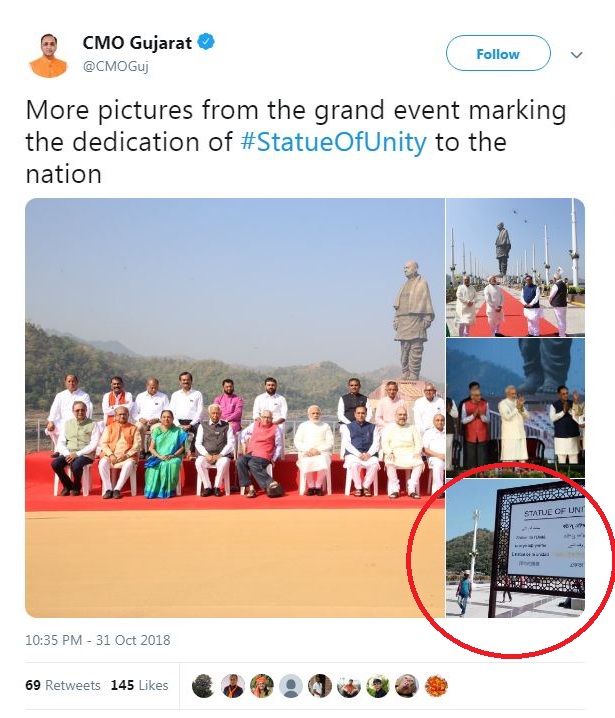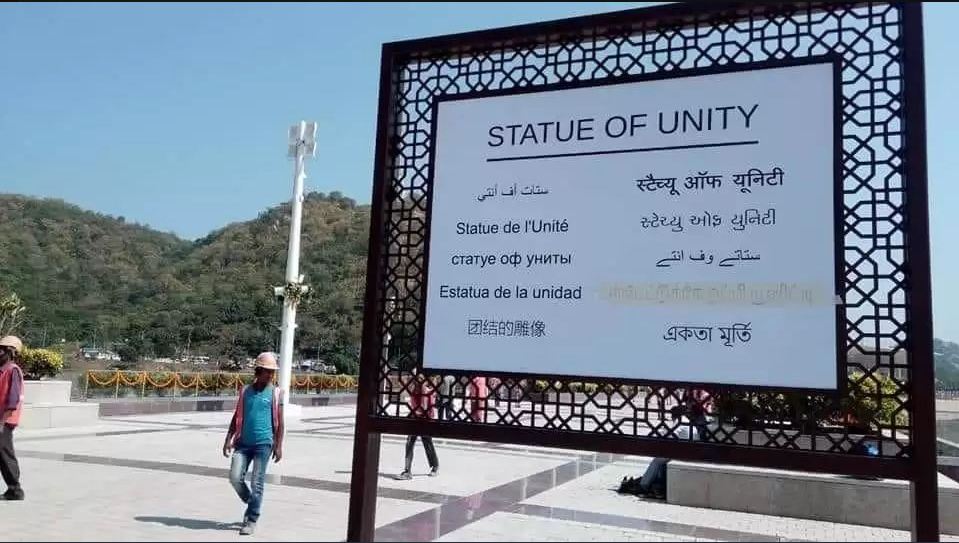 The Images Are Not Fake
BOOM was able to ascertain that a similar photo was clicked by a journalist at the British Broadcasting Corporation's (BBC) Gujarati website. BBC Tamil also wrote a fact-check on November 1, 2018 explaining that while reports claimed that the photos were fake, a similar image was clicked on October 30 by Tejas Vaidya, a BBC Gujarati journalist.
BOOM also reached out to the BBC who confirmed that the photo had been clicked by one of their journalists and also shared the original image with us. The original photo shows that the Tamil text on the plaque has been covered with white tape.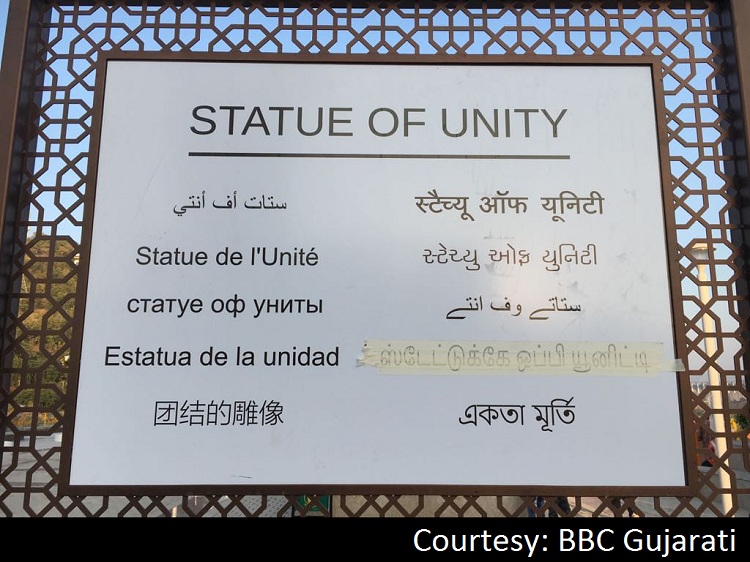 BOOM also reached out to Sanjay Joshi, chief manager, Sardar Vallabhai Patel Rashtriya Ekta Trust, which is responsible for the execution of the Statue of Unity project. Joshi said, "Yes, such a board with names in several languages exists. We have received complaints about the mistake in one of the languages and are verifying the same."
Earlier on Thursday, The Hindu also did a fact-check to confirm the authenticity of the photos and found them to be true. The newspaper quoted an unnamed Gujarat government official, as saying, "We had outsourced event management works to private agencies. When it was brought to our notice, we immediately blacked it out." (Click here to read The Hindu's fact-check)