No, Pakistani Doctors Did Not March In Solidarity With West Bengal's Ongoing Doctors' Strike
Lucknow's King George's Medical College students organised the protest march on Thursday as a mark of support to WB medical students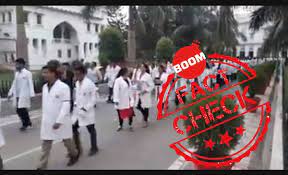 A video of a protest march by Lucknow's King George's Medical University (KGMU) students in support of the ongoing doctors' strike in West Bengal is viral on social media with false claims. The video, where KGMU medical students can be seen marching with slogans of "We Want Justice", is being passed off as a solidarity march by the Pakistan Young Doctors' Association.
The video was originally posted by the Young Doctors Association Pakistan, (YDA Pakistan) on their Facebook page on June 13.
The video was initially captioned as, "Pakistani young doctors fully support the stance of young doctors of India and extend full and every type of support in all circumstances. Young doctors of Pakistan strongly condemns the irresponsible attitude and statement of Chief Minister Mamata Banerjee . Policemen have to fight criminals and that's why they have to face armed goons. But doctors have to save lives and they are not on duty against armed goons. It's duty of the state to provide fool proof security and conducive environment for young doctors working all the day long. #Pakistaniyoungdoctorssupportindianyoungdoctors #YDAIndia," with an aim to show support to the Indian doctors.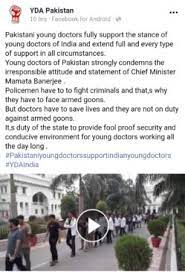 Soon, multiple Indian Facebook pages shared the same solidarity post with a caption, "Now even Pakistan's junior doctors are protesting in support of Indian doctors." (Bengali Caption: এবার পাকিস্তানের জুনিয়র ডাক্তাররাও ভারতের ডাক্তারদের সমর্থনে মিছিলে )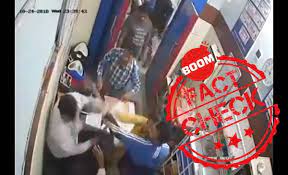 Fact Check
BOOM found that the YDA Pakistan page later added a line in the post mentioning that the video is originally from King George's Medical University, Lucknow.
BOOM also accessed several other videos from KGMU solidarity march which shows that the above video is from the same incident. The KGMU students marched to show support for the ongoing medical strike in West Bengal on June 13.
BOOM has got in touch with two students from the university. The article will be updated when they revert.
West Bengal's medical services were paralysed from June 12, after junior doctors were assaulted in Nilratan Sarkar Medical College (NRS) on Monday night following the death of a septuagenarian. This was followed by mass resignations and nationwide protests by medical practitioners. Click here to read more about the strike.
Claim Review :
Pakistani doctors march to show support to India Doctors Strike
Claimed By :
FACEBOOK POSTS