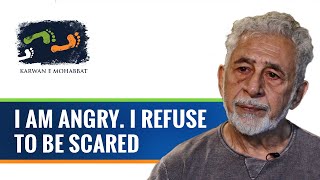 A quote attributed to Naseeruddin Shah claiming the veteran actor said lakhs of Muslims would leave the country if Prime Minister Narendra Modi was re-elected, is false.
The actor has made no such statement.
An image of the actor is being shared on Facebook along with Hindi text that translates to "if Modi ji becomes the PM again then lakhs of Muslims will leave Hindustan."

Translated from Hindi text - मोदी जी दोबारा पीएम बने तो लखो मुस्लिम लोग छोड़ देंगे हिंदुस्तान)
The post from the Facebook page Mission Modi has received close to 1000 shares at the time of writing this fact-check.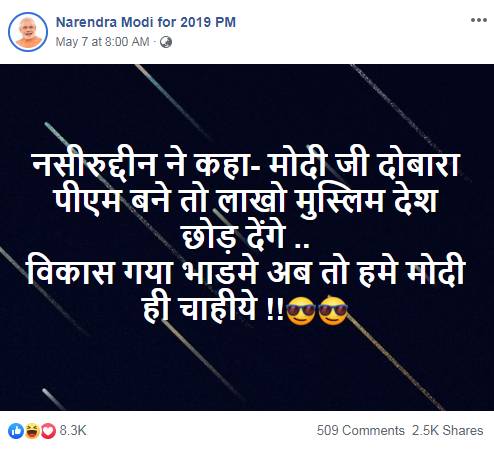 You can view the archived version of the post here.
Fact Check
While Naseeruddin Shah was not immediately reachable, BOOM spoke to his assistant Jairaj who rubbished the viral quote.
A search for Shah's Facebook account also shows nothing. The actor is not present on Twitter.
Naseeruddin Shah drew flak from the Hindutva right-wing on social media in December 2018 for comments he made in an interview. Back then, Shah in a video had said 'he fears for his children in the India of today'. Read more about it here.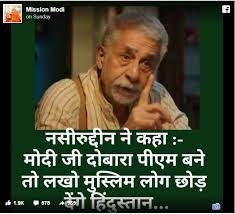 Following the Bharatiya Janata Party's landslide victory on May 23, 2019, Shah once again became fodder for online trolling.