'No Harm If Party Workers Are Asked To Watch Out For Their Own Good': BJP West Bengal President Defends Viral Video
Rakesh Singh, a BJP party worker from Kolkata, shot a video urging party workers to keep 8 feet long sticks to face Kolkata police and TMC goons.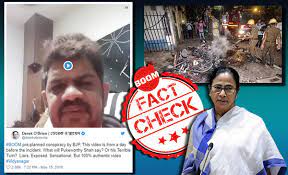 A day after unrest broke out in Kolkata's College Street area between Bharatiya Janata Party (BJP) and Trinamool Congress (TMC) party workers, a video by Rakesh Singh, a BJP worker, started doing the rounds on social media.
The video, where Singh urges members of a Whatsapp group 'Fatafati' anticipating "jhamela, jhanjhat," or trouble at the road show of BJP President Amit Shah in Kolkata, has been shared by several verified handles on Twitter, in an attempt to establish the fact that BJP spearheaded the clash.
Fatafati in Bengali is used to describe something that is 'outstanding' and 'superb'.
BOOM got in touch with BJP West Bengal President, Dilip Ghosh, who was aware of the viral video that was shot by Singh. He said, "It is obvious that we have to take steps to save ourselves from TMC goons as Kolkata Police will not help us," Ghosh told BOOM. "So what is the harm in such a video, where party workers are urged to watch out for their own good?"
West Bengal Chief Minister Mamata Banerjee played the video in her public address at Agarpara on Wednesday morning and said it was proof that the BJP was responsible for starting the violence.
At 18 minute 31 second mark Banerjee plays Singh's video as a document of proof.
All India Trinamool Congress (AITMC) national spokesperson Derek O'Brien tweeted the video saying it cleared the air regarding who started the violence on May 14 in the city. His tweet can be viewed below.
In the 53 second long video, Singh appeals to the members of a certain Whatsapp group asking them to be present for the road show of Amit Shah, that was scheduled to be held on May 14. He in fact also mentions that if absent, they would be removed from the group. Later, Singh says 'brothers and friends' should be present to combat the cops and the TMC goons with an "eight feet stick".
Shot from a front camera of a phone, Singh says, "Group members of Fatafati - you know why you are in (this group). There could be mayhem and problems in tomorrow's road show. And this is for people who will not come tomorrow. We will remove them from this Fatafati group. Whoever is there in the Fatafati Whatsapp, if you even have to buy trouble to create it, then go ahead. But you have to come. All our brothers and friends are most welcome of Fatafati to come. Thank you. This is because, tomorrow there is Amit Shah's programme and road show. And you people have to play an important role there. We have to use 8 feet sticks to fight with police and TMC gundas. Thank you."
Incidentally Singh joined BJP in March this year. Singh was an active member of Pradesh Congress earlier.
BOOM looked up Rakesh Singh's profile on Facebook but couldn't find the above mentioned video.
We also reached out to Singh, who said, "It was a video made for a very small group. I don't have any idea how it started circulating. Also, the video was in a different context." When asked was the video made to provoke BJP party workers, Singh evaded the question however he agreed that the video was shot before Shah's roadshow happened in Kolkata. Singh added, "A TMC MLA had informed me earlier that such a thing was going to happen. So I urged my team to keep sticks for self defence."
Singh also mentioned that the video had been doctored with the original being a longer clip of 2.13 minutes. However, he refused to share the same with BOOM. "The video is doctored to suit TMC purposes," Singh said. BOOM could not independently find out if the video had been edited.
Furthermore, Singh accused the Trinamool Congress chief Mamata Banerjee of "crossing limits" by playing such a video. "I am surprised how can a chief minister play such a video on a public forum. I am going to file a case against her."