No, Arnab Goswami Did Not Write 'We Don't Deserve You' Letter To PM Modi
After the assembly elections results, a three year old open letter to Narendra Modi is doing the rounds purporting to be from Republic TV's Editor-in-chief Arnab Goswami.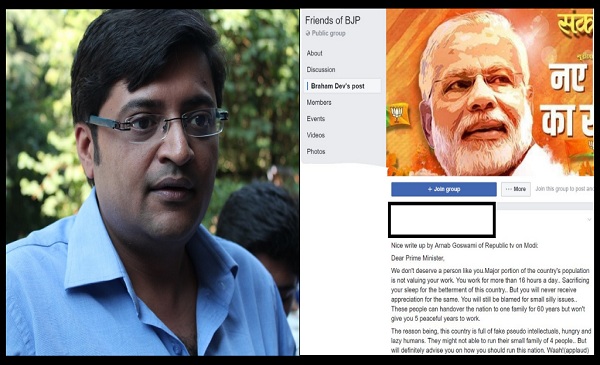 An open letter addressed to Prime Minister Narendra Modi purporting to be from Republic TV founder and Editor-in-Chief Arnab Goswami is at least three years old and is not written by the TV anchor.
The post shared by several unofficial fan pages of the BJP is titled 'Dear Prime Minister, We Don't Deserve a Person Like You.'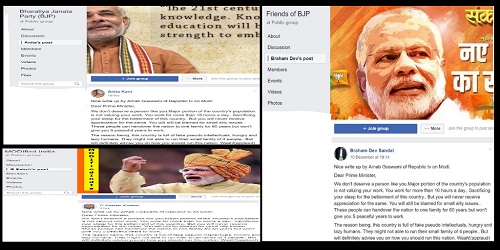 The letter is being forwarded on WhatsApp and Facebook with text that says, "Nice write up by Arnab Goswami of Republic tv on Modi.' It is being shared once again after the Bharatiya Janata Party (BJP) suffered a huge setback in the recently concluded state elections in five states.
The letter laments why India supposedly does not deserve a prime minister like Modi.
"You work for more than 16 hours a day.. Sacrificing your sleep for the betterment of this country.. But you will never receive appreciation for the same. You will still be blamed for small silly issues.. ," the viral post says.
However, a fact check shows that the open letter was not written by Arnab Goswami and goes back to at least 2015. While some have attributed the post to Hindutva rabble rousing page Shankhnaad, the post is much older. Shankhnaad has been caught spreading false, communally motivated and malicious posts several times in the past. (Read here, here and here)
(Click here to view the archived post)
The viral post was even reported by the newspaper DNA in March 2016 but a search shows it has existed online in 2015 as well.
Dear Prime Minister,

We don't deserve a person like you.Major portion of the country's population is not valuing... https://t.co/dfjIugl4pJ

— Muni Krishna Sanadi (@samuparuha) December 16, 2015
The letter makes a reference to the results in Bihar. "See the Bihar results.. They have chosen 8,9 and 12th standard passed/failed candidates.. But not the ones who represented you," the post says suggesting it could have been written post November 2015 .
It is not clear who is the author of the post.
Claim Review :
Republic TVs Editor-in-chief Arnab Goswami Writes 'We Don't Deserve You' Letter To PM Narendra Modi
Claimed By :
Social Media