Fact Check
MP Home Minister Says No Communal Angle To Cow Injured By Bomb
Usual suspect ShankhNaad gives a tragic accident involving a cow a communal hue. MP home minister says initial investigations rule out communal angle.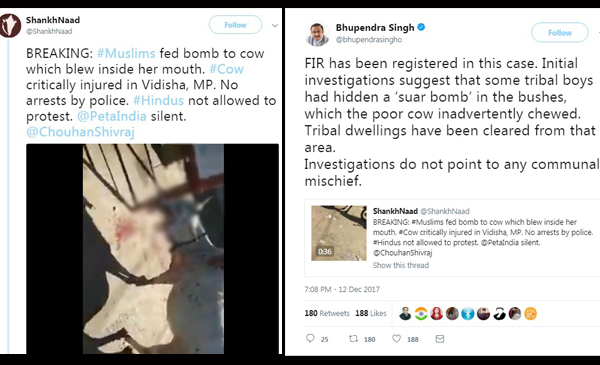 A tweet by Madhya Pradesh Home Minister Bhupendra Singh on December 12 has ruled out any involvement of local Muslims in gravely injuring a cow by feeding it a bomb, as alleged by rabble rousing anti-Muslim Twitter handle 'ShankhNaad.
On December 11, Twitter handle ShankhNaad, which has earned notoriety for peddling fake news to incite hatred against minorities in India, claimed local Muslims had fed a cow a bomb, grievously injuring it in the process. The tweet also claimed that the area was tense but that local police were deployed to protect Muslims in the area.
The tweet was accompanied by a horrific video showing the cow profusely bleeding from the mouth walking around in pain.
WARNING: The below video is graphic is nature. Some readers might find it distressing.
BREAKING: #Muslims fed bomb to cow which blew inside her mouth. #Cow critically injured in Vidisha, MP. No arrests by police. #Hindus not allowed to protest. @PetaIndia silent. @ChouhanShivraj pic.twitter.com/pwzHOgtSpn

— ShankhNaad (@ShankhNaad) December 11, 2017
At the time of writing this story, ShankhNaad's tweet garnered a staggering 45,900 views, close to 1900 Likes and over 4,600 Retweets. Most of the reactions were of shock and outrage.
However, Madhya Pradesh Home Minister Bhupendra Singh said that initial investigations by local police did not point to any communal mischief. Singh even quoted ShankhNaad's tweet and clarified that the cow had accidentally chewed a crude bomb kept in the bushes by local tribal boys to hunt wild boars.
FIR has been registered in this case. Initial investigations suggest that some tribal boys had hidden a 'suar bomb' in the bushes, which the poor cow inadvertently chewed. Tribal dwellings have been cleared from that area.

Investigations do not point to any communal mischief. https://t.co/SaLEHysJcR

— Bhupendra Singh (@bhupendrasingho) December 12, 2017
Despite the minister's clarification, not wanting to give up the anti-Muslim rhetoric, a defiant ShankNaad without any shred of evidence tweeted that tribals had placed the bomb to kill pigs, but it was 'some peaceful Jihadi' who fed the bomb to the cow.
Furthermore the account claimed a cover-up by MP police and local leaders to protect the Muslim community.
Tribals had put some bomb to kill #pig. Some peaceful jihadi fed that bomb to #cow.

WORST PART: MP Police & local leaders are claiming "no communal mischief" to shield jihadists just like #Karnataka police tried to paint Paresh Mesta's murder as accident! Who will save Hindu ?

— ShankhNaad (@ShankhNaad) December 12, 2017
According to a December 11 news report by local Hindi newspaper Nai Dunia, the incident took place at Ahmedpur Road in Vidisha, Madhya Pradesh. The cow which was wandering the streets by itself, reached the spot where it started feeding on stuff kept near few roadside shops. It also chewed the bomb which was kept in a bag after which the bomb exploded and the cow got injured.
The article says people gathered to the spot on hearing the explosion. However, police reached the spot and the situation was under control. Later in the day, members of the Bajrang Dal assembled at the spot demanding action against those responsible. News reports have not mentioned anything about the state of the injured cow.
This is corroborated by Hindi factchecking site the Lallantop.com - मुस्लिमों द्वारा गाय को बम खिलाने की वो हकीकत जो आपको नहीं बताई गई
ShankhNaad has been on Twitter since April 2012 and has a following of over 19,000 followers. Although the account's bio claims it is about 'Activism | Nationalism | Dharma' every tweet appears designed to incite hatred against people of other faiths.
Like other fact-checkers, BOOM has debunked fake news peddled by this handle in the past (No, Muslims Did Not Vandalise Swami Vivekananda's Statue In UP)
Do you always want to share the authentic news with your friends?
Subscribed Successfully...
Enter Valid Email Id