No, A Groom Was Not Shamed For Writing 'Chowkidaar Chor Hai' On His Hand
A story about a groom making a last minute demand for dowry is given a political hue.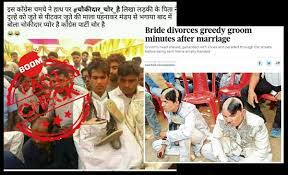 A two-year-old image from Jharkhand of a man publicly shamed for allegedly making a sudden demand for dowry on his wedding day, is viral with a false claim that he was humiliated by the bride's father for writing 'Chowkidaar Chor Hai' (the watchman is a thief) on his hand.
The photograph, which has been shot at the wedding venue, has been captioned as, "This Congress fan had written Chowkidaar Chor Hai on his hand. The father of the bride beat up the groom and made him wear a garland of shoes. He was then driven out of the pandal and later told Chowkidaar is pure, while the Congress party is chor (thief)!"
The photo is viral on several Facebook pages with a similar claim.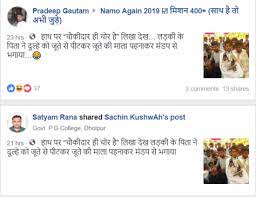 Fact Check
BOOM ran a reverse image and found that the groom in the photo is one Muntaj Ansari of Chandwe village in Jharkhand's Ranchi district.
Ansari, who had already been gifted a Hero Passion PRO bike by the bride's family, demanded a Bajaj Pulsar and refused to take his bride Rubana Parveen home until his demand was met, according to a news report. The couple got divorced within three hours of getting married after the bride found out about his dowry demands.
After an argument, he was garlanded and publicly humiliated by angry villagers.
Later, Ansari was tonsured and made to wear a poster which read, "I am greedy for dowry." Gulf News' 2017 report can be accessed here and Daily Mail's report on the incident can be read here.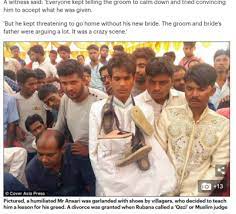 Claim Review :
Photo shows a groom was shamed for writing Chowkidaar Chor Hai on his hand
Claimed By :
Facebook posts