News
Why Türkiye Is Taking Legal Action Over Earthquake Damage
The death toll in Türkiye-Syria earthquake has crossed 33,000, while Turkish government said it will take legal action against the building contractors.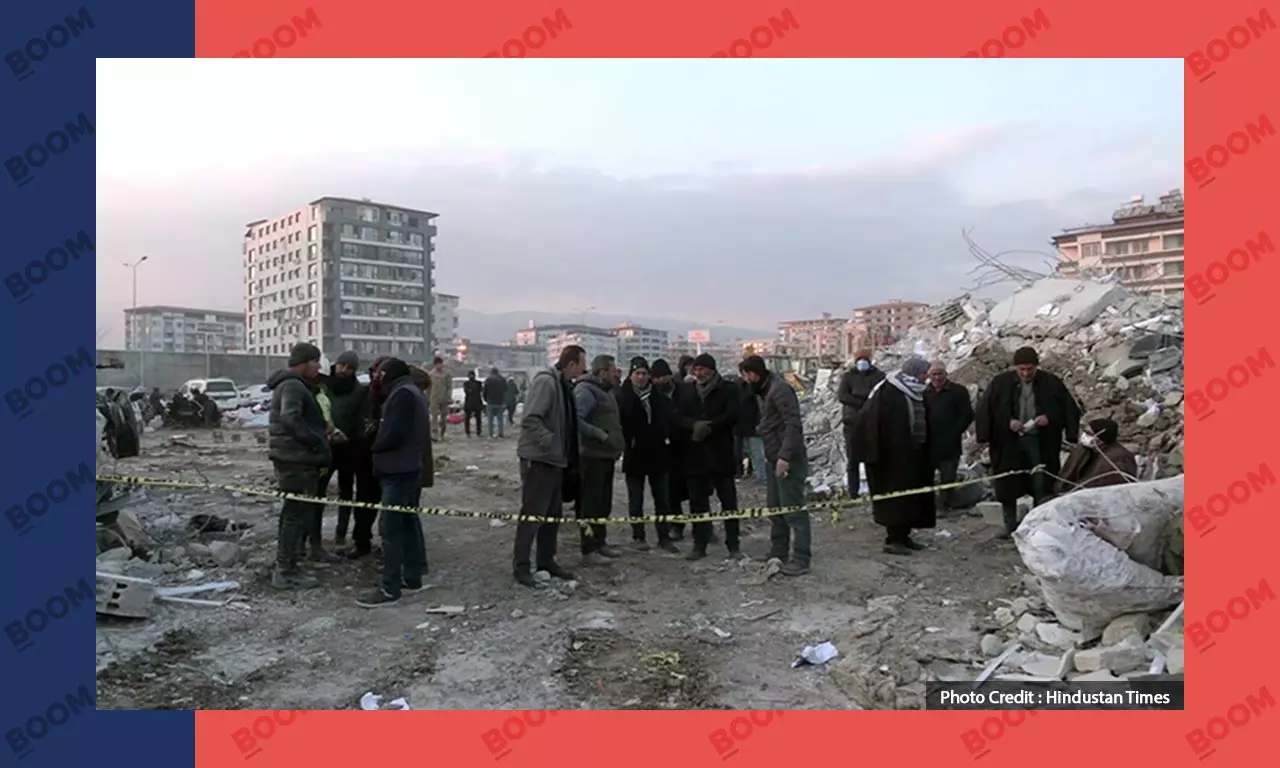 A week after the devastating earthquake, Türkiye is mulling action against the contractors of the collapsed buildings. On Sunday, Vice President Fuat Oktay said that arrest of 113 alleged suspects has been ordered.
The police have taken 12 people, including building contractors, into custody over the construction of buildings that were damaged in the earthquake, BBC reported.
Over 33,000 people have reportedly died since the catastrophic 7.8 magnitude earthquake that jolted parts of Türkiye and Syria on February 6. The death toll continues to mount as rescuers are looking for survivors under the debris of the collapsed buildings. Reuters on Monday reported that nearly 29,695 people have died in Türkiye, while over than 3,500 are dead in Syria.
The World Health Organisation said that 15 million people in Türkiye and 10.87 million people in Syria have been affected by the earthquake.
Here is all you need to know about the legal action being taken over the collapse of buildings in Türkiye:
Why is Türkiye taking legal action over infra damage?

Vice President Oktay on Sunday briefed the press where he said that a judicial process will be done to probe the cases of buildings that suffered heavy damage. "We will follow this up meticulously until the necessary judicial process is concluded, especially for buildings that suffered heavy damage and buildings that caused deaths and injuries," Al Jazeera quoted Oktay as saying.
Oktay also said that the sample debris will be taken for further investigation. The Guardian reported that investigation units have been set up in the 10 provinces affected by the earthquake.
Al Jazeera quoted Turkish Environment Minister Murat Kurum as saying that over 170,000 buildings, 24,921 structures in the earthquake-affected region have either collapsed or have suffered heavy damage.
While Türkiye falls in a seismic zone, the region is known to have a vulnerable infrastructure. Mark Quigly, a professor of Earthquake Science at the University of Melbourne wrote in The Conversation that damage to buildings has been majorly caused by not complying with safety standards in the construction. The buildings appear to have been built from concrete without adequate seismic reinforcement, Quigly said.
Opposition blames Erdogan
The Opposition in Türkiye has blamed President Recep Tayyip Erdogan for the scale of destruction. "If there is one person responsible for this, it is Erdogan," BBC quoted Kemal Kilicdaroglu, the leader of Turkey's main opposition party, as saying. The report also said that there is overall anger against the government for its lack of preparedness to deal with the situation. Questions have also been raised over the "earthquake tax" that was introduced by the Turkish government in 1999 after 17,000 people were killed in an earthquake.
What has the UN said?
While rescue and relief operations are underway in Türkiye, the situation in Syria is grim as the country is already in crisis situation owing to the decade-long civil war. The United Nations has said that millions of people in Syria have been rendered homeless,
"As many as 5.3 million people in Syria may have been left homeless by the earthquake," Al Jazeera quoted Sivanka Dhanapala, the Syria representative of the UN High Commissioner for Refugees (UNHCR) as saying.
"For Syria, this is a crisis within a crisis," Dhanapala said.
UN aid chief Martin Griffiths said that the world has "failed the people in northwest Syria". "We have so far failed the people in north-west Syria. They rightly feel abandoned. Looking for international help that hasn't arrived. My duty and our obligation is to correct this failure as fast as we can,' he said in a tweet.

Griffiths visited the Turkish-Syrian border late last week to take stalk of the situation. "I am here to make sure that these people also are not forgotten," he said in Turkish city of Kahramanmaraş where he met the earthquake victims.
WHO chief Tedros Adhanom Ghebreyesus visited Syria's Aleppo on Saturday. "I'm heartbroken to see the conditions survivors are facing - freezing weather and extremely limited access to shelter, food, water, heat and medical care," he wrote on Twitter. He said while the rescue work is going on in Syria, more help is needed.

Do you always want to share the authentic news with your friends?
Subscribed Successfully...
Enter Valid Email Id