Nepal Earthquake: Heartbreak And Devastation
[slideshow_deploy id='18423′]
The massive earthquake that hit Nepal with devastating force less than 80  kilometers from the capital, Kathmandu, has caused widespread devastation across the country.
An earthquake with an intensity of 7.9 on richter scale with its epicenter 77 kilometer north-west of Kathmandu hit Nepal on April 25, Saturday.  The epicentre according to the U.S. geological survey is Lamjung. The earthquake has also triggered avalanches on Mount Everest.
Daily Update:
May 7
The death toll from the devastating earthquake that struck Nepal has jumped to 7,757 with another 16,390 people injured. A majority of these deaths are from Sindupalchowk district, Nepal police said.
Until yesterday, over 600 rescue and relief personnel from more than 12 countries, including India, had left Nepal, following a directive from the government here.
The Home Ministry yesterday said that a total of 2,79,234 houses have been completely damaged and 2,37,068 partially damaged due to 7.9 magnitude quake.
May 6
As aftershocks continue to shake the capital, many people remain afraid to return to their homes.
Police say about one-third of Kathmandu's population has left the city since the earthquake. Many others have moved in with relatives, while some are staying in tents in open areas.
The confirmed death toll from the quake rose to 7,652, with more than 14,500 injured, Deputy Inspector General of Police Kamal Singhbam said in Kathmandu.
May 4:
The Nepal government on Monday asked teams from 34 countries, including India's National Disaster Response Force (NDRF), to withdraw from all rescue operations from the earthquake-hit areas of the country.
The death toll rose to 7,365 while the number of injured has reached 14,355.
The bodies of about 100 trekkers and villagers were recovered at the biggest village in Langtang, which lies 60km (40 miles) north of Kathmandu and is on a trekking route popular with westerners.
May 3
The death toll has now crossed 7000, eight days after the earthquake.
Nepal's Tourist Police say 109 foreigners are still unaccounted for, including 12 Russians and nine Americans.
Nepal's only international airport was closed on Sunday to large military and cargo planes flying in relief material to prevent damage to the airport's only runway. Birendra Shrestha, manager of Tribhuwan International Airport, said the runway was built to handle only medium-size jetliners, but was deteriorating due to large military and cargo planes flying in quake relief material for over a week.
Nepal also experienced an earthquake registering 4.2 on the richter scale. The epicentre was identified as Banepa in Nepal.
May 2
The death toll has climbed to 6,841, as more reports come in from remote areas and rescue workers dig out more bodies from under the rubble. Some roads to the highly affected areas still not fully functional. Rescue teams are also facing problems reaching remote spots to provide aid.
There has been occasional good news with three people being pulled out alive after eight days of the Nepal earthquake.
Canada too has joined the rescue and relief effort with Canada's Disaster Assistance Response Team deployed in Kathmandu along with civilian political and humanitarian personnel from Foreign Affairs.
May 1
The confirmed death toll has risen to 6,250, with 14,357 injured according to the Nepal government. There is no number for the missing, but bodies are still being pulled from the debris of ruined buildings, while rescue workers have not been able to reach some remote areas.
In the capital Kathmandu, many unclaimed bodies were being quickly cremated because of pressure on mortuaries and the increasing fear of disease.
Following the April 25 earthquake in Nepal, an earthquake of magnitude 5.4 struck the islands of Andaman and Nicobar.
The epicentre of the earthquake is reported to be 135km south-west of Port Blair.  There were no immediate reports of damages or casualties.
April 30
The death toll has risen to 5,582 according to the Ministry of Home Affairs, Nepal.
World Health Organisation has said that the biggest immediate worry is the possibility of an epidemic as thousands are living in the open like the cholera epidemic which followed the earthquake in Haiti.
Japan and Thailand joined the rescue and relief mission in Nepal with the Japanese government sending aid and the Thai team joining the efforts on the ground.
April 29
The UN launched a $415m flash appeal to help estimated 80 lakh people affected by the earthquake over the next three months.
An estimate 2.8 million people have been displaced by the earthquake, as hundreds of thousands of people are afraid to return to their homes.
More than 70,000 houses have been destroyed, a figure that is expected to rise.
Hospitals are now facing a shortage of medicines and fuel too is in short supply to keep generators running.
April 28
Death toll reaches 5,000 and Nepal Prime Minister Sushil Koirala admits to fears of it reaching 10,000.
Death toll in India reaches 72. Aftershocks continue to be felt with the strongest registering a 5.1 magnitude.
Monetary aid pours in as United States sens $10 million, followed by the UK with $5 million, Canada with $4.1m, Australia and Norway with $3.9 million each the EU with $3.25m and Bhutan and New Zealand with $1 m.
April 27:
Death toll reaches 3000 as remote areas remain inaccessible due to landslides and damage to arterial roads.
U.S. Geological Survey says damage costs to Nepal would most likely fall between $1 billion and $10 billion, but could range much higher
Indian Air force is pressed into action to help Nepal in rescue and relief operations. Four C-17 Globemaster III, 03 C-130J Super Hercules, 03 IL-76 and 02 AN-32 aircraft were pressed into action from morning to night carrying relief material.
US government releases $1 million in aid to Nepal and European Union promises $3million.
A total of 2305 stranded persons (Indian and foreign nationals) been evacuated from Kathmandu to India.
Indian Army expedition team located at Everest Base Camp continues to assist in evacuation.
April 26:
Death toll in Nepal breaches the 1000 mark, reaches 1500 at the end of Day 1 of rescue operations.
One earthquake of magnitude 6.9 on the richter scale and 14 aftershocks felt across Nepal, India and Bangladesh.
Casualty rate at Mount Everest base camp goes upto 18.
India rushes six teams of National Disaster Relief Management to Kathmandu. A team of 31 Medical Staff – 13 Doctors and 18 paramedics with 2 tonnes of essential medicines dispatched. 4.5 tonnes of Food and 4.5 tonnes of Medicines were also dispatched.
Death toll in India reaches 57 in the states of Bihar, UP and West Bengal.
The Indian government announces a round-the clock situation monitoring cell and the numbers are: 011- 2301 6633, 2379 2281.
China too deploys rescue operation team of 62 in Kathmandu.
14 aftershocks were also reported throughout the day across northern states of India, Nepal and Tibet. With Nepal being a densely populated country and a tourist destination, final estimates of death is expected to be much higher.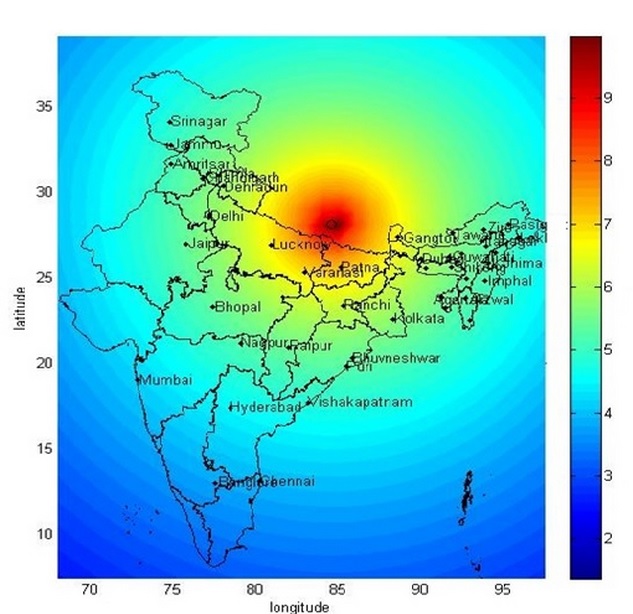 Nepal is one of the few countries that lies directly over a fault-line as it is located on top of the meeting point of Eurasian and Indian plate.