Entertainment
'My Wife Did Not Convert To Islam': Urmila Matondkar's Husband Refutes Viral Posts
Viral posts on Facebook claim the actor turned politician converted to Islam and changed her name to 'Maryam Akhtar Mir' following her marriage to Kashmiri businessman and model.
Less than 24 hours after Urmila Matondkar joined the Indian National Congress (Congress) on Wednesday, Facebook posts have cropped up claiming the former actress embraced Islam and changed her name to 'Maryam Akhtar Mir.'
Matondkar married Kashmiri businessman and model Mohsin Akhtar Mir in 2016.
The actor turned politician, best known for the movie 'Rangeela', is expected to contest from the Mumbai North Lok Sabha seat.
BOOM got in touch with Mohsin Akhtar Mir, who denied any such conversion by Matondkar after marrying him.
"It is a common trend to play up such claims before elections and we are not perturbed by any of it. My wife did not convert to Islam. Period," Mir told BOOM.
Taking cue, Mir also clarified that Urmila has also not changed her name.
"These days celebs' social media profiles tell a lot about them. One can go and see her profile on Instagram, she has not changed her name or added my surname, unlike many other stars. If you come to our house, we have a temple too. Even my helping staff can vouch for a fact that she has not converted to Islam."
Several pages have posted Matondkar's wedding photograph and captioned the image as 'an attempt by her to fool Hindus.'
The Hindi posts translate to, "Urmila Matondkar will contest the election from Mumbai with a Congress candidature. She had embraced Islam after marrying Kashmiri businessman Mohsin Akhtar Mir, who is nine years younger to her. She changed her name to Maryam Akhtar Mir. But she is fooling Hindus by writing Urmila Matondar in the candidature list. Be careful of such disguised Mullahs."
(Translated from Hindi text - उर्मिला मातोंडकर मुंबई से कांग्रेस के टिकट पर चुनाव लड़ेगी। उर्मिला ने इस्लाम कु़बूल कर अपने से 9 साल छोटे कश्मीरी बिजनेस मैन "मोहसीन अख्तर मीर" से निकाह किया तथा अपना नाम "मरियम अख्तर मीर" रख लिया । लेकिन चुनावी पर्चे पर हिन्दुओं को मूर्ख बनाने के लिए उर्मिला मातोंडकर ही लिखा जायेगा । ऐसे बहुरूपिये मुल्लियों से सावधान रहें)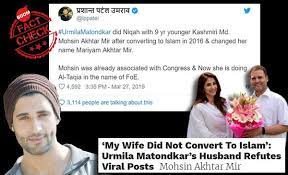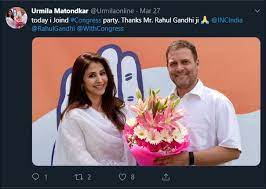 Meanwhile, Mir was also targeted in a tweet, which alleged that Urmila's entry into politics was because of Mir's proximity to the Congress party.
To this, he clarified, "This is completely false. I believe in equality. Urmila and I are friends first, and I support every decision that she takes. So there is no way that I could have swayed her decision."
BOOM reached out to Matondkar for a comment. Her manager laughed off the claim of Matondkar's conversion and said, "it is a joke." The article will be updated if and when the actress replies.
Do you always want to share the authentic news with your friends?
Subscribed Successfully...
Enter Valid Email Id