Murshidabad Triple Murders: Image Of Prime Accused's Kin Viral With Misleading Claim
BOOM reached out to local BJP leader Anamika Ghosh, who identified the man as Pulak Sarkar, the accused's brother-in-law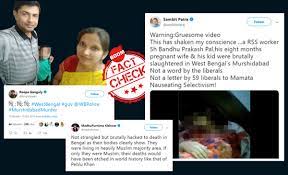 A photograph of the brother-in-law of Utpal Behra, the prime accused in the Murshidabad triple murder case, is being shared online with a false claim that it shows Behra pictured with Rashtriya Swayamsevak Sangh (RSS) members
Viral posts on social media have falsely identified the man in the extreme right of the photograph as Utpal Behra who was arrested earlier in the week for allegedly killing Bandhu Prakash Pal and his family on October 8, 2019.
According to the police, Behra, a mason, hacked Jiaganj resident Bandhu Prakash Pal, his eight month pregnant wife Beauty Pal and their son to death, over monetary disputes. He was arrested from adjoining Sagardighi on October 15. Behra had reportedly bought two insurance policies from Pal, however, the latter refused to give any receipt for the same. He also allegedly insulted Behra following which he hatched a plan to kill Pal.
But the viral image is not of Utpal Behra.
The posts have been captioned as, "Utpal Behra, the prime killer of Jiaganj school teacher, at an RSS meeting".
(Original text in Bengali: Rss এর মিটিংয়ে জিয়াগঞ্জের মাস্টারের মূল খুনি উৎপল বেহরা । ) Click here to view an archive version of the post.
BOOM reached out to Anamika Ghosh, Berhampore BJP Mahila Morcha president and also a state BJP leader, who identified the man as Pulak Sarkar, Behra's brother-in-law.
Ghosh stated that Behra, a CPIM party worker, had only joined the BJP recently.
"This is an image of Pulak Sarkar having tea at a local tea stall in Jiaganj's Baghdahar, Ghosh told BOOM. "It is not an RSS meeting. Pulak Sarkar supports our political ideology but he isn't an active member in the party circuit."
BOOM also spoke to Mukesh Kumar, SP, Murshidabad, who stated that the viral image is not of Behra.
It is however unclear whether Sarkar was questioned in connection with the case.
The narrative is among the many fake narratives doing the rounds post the gruesome murder of Bandhu Prakash Pal and his family. Social media has been abuzz with disturbing images from the crime scene and misleading claims associated with it.
ALSO READ: Image Of Prime Accused In Bangladesh Student's Murder Falsely Shared As Murshidabad Killer
Murshidabad Triple Murder: How Social Media And News Media Gave The Killings A Political Twist
Gruesome Triple Murder Case In West Bengal: RSS, BJP Leaders Dispute Political Motive
Bandhu Prakash Pal killed for opposing the building of a mosque?
Meanwhile, conservative Twitter influencer Gaurav Pradhan, with a follower of over 1.84 lakhs, in a tweet claimed Pal was murdered by Muslims for opposing the building of a mosque beside his house.
BOOM asked local police about the same.
SP Mukesh Kumar said, "Like the earlier version- RSS - Jehadi link etc this is another absolutely false and baseless propaganda that has no truth to it."
The Indian Express reported last week that Pal's mother had said that he did not have any political connections. The same was corroborated by Beauty Pal's brother in the video below.
Repeated attempts to reach out to Rajesh Ghose, Pal's uncle, were unanswered. The article will be updated as and when Ghose responds.